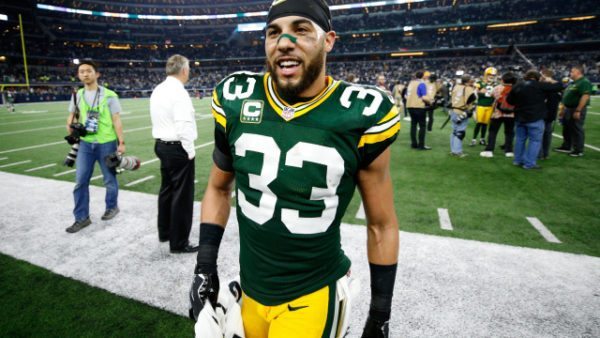 The best thing you could do to win the offseason is to find the bargain player that turns into a star. Chris Hogan proved worthy for the New England Patriots and every championship team will always have players who perform better than their contracts. With free agency looming, teams will be searching for the diamonds in the rough.
Whether it be a cover corner that fits just in the defensive coordinator's scheme like a jigsaw piece, or a slot receiver that provides the backup plan for the quarterback. There is no explaining how much one of these players might mean to the team in the end.
Here are a few players that could have a major impact on their new team as they failed to produce big numbers their first time around.
Cordarrelle Patterson:
Minnesota had extremely high hopes for the wide receiver out of Tennessee. Although he was able to make a name for himself as a kick returner, he was never able to find a real role in the offense as a receiver. Patterson had a good rookie season with 45 receptions and 469 yards. But quickly Cordarrelle fell out of the game plan as he only caught 35 balls in the next two seasons and it seemed that he could even be cut. Last season CP found a way back on the trail as they had to pass the ball more with Adrian Peterson down for the year. With a team like New England always able to grab slot receivers from nowhere and place them in as key contributors, I see him being a good fit. I could also see him falling into the hands of two AFC North teams. The Pittsburgh Steelers are desperate to find a consistent kick returner and are able to make any receiver look good with Big Ben with holding the reins. But the rival Baltimore Ravens should be taking a look at him as well. The Ravens biggest need might be a wide receiver. Steve Smith Sr. is comfortably in retirement and Mike Wallace could be dropped, the Ravens will be searching for playmakers in the draft and free agency. Patterson is cheap and could come into his own… no reason to not take a chance on the versatile player.
Micah Hyde:
Hyde might not be as under the radar as some of the men on this list, but he isn't a big name so he qualifies. With everyone passing the ball more and more, a new position has developed in the NFL. A hybrid between a safety, cornerback and a linebacker. Micah is able to drop back and be a safety or line up on the line with a receiver. Players like this takeaway matchup advantages from opposing offenses and provide versatility for your defense- plus it doesn't hurt to have a backup plan for when players get injured. Hyde has been consistent as ever, recording between 55-60 tackles in all four of his seasons in Green Bay. He's only missed one game in his career and would be able to come right in and fill a void. While everyone could always add a player like Hyde, I see a team like New Orleans or Dallas jumping in on the bidding war. Since Green Bay usually isn't a big player in free agency and they like to retain what they developed, I still see them as the favorites.
Duron Harmon:
Harmon is in a familiar place that a lot of players are after the Super Bowl. After the biggest game is on the biggest stage and it is hyped up for weeks, certain players make an even bigger name for themselves and other teams see them as their future piece to their trophy. Harmon has played 4 years in New England, but they don't usually show up in the "overpaid free agents" column. He has not had great stats but has produced when he has been called upon. A young player that has potential is always a good candidate, but Harmon brings a similar skill set that Micah Hyde brings-versatility. Harmon is able to play both the safety and cornerback position. With low productivity but a high ceiling, Harmon could get brought on for a value contract. If the Packers do lose Hyde, I believe Harmon would fit in great.
Robert Woods:
The Buffalo receiver has come into his own as a great route runner. Everyone keeps waiting for his break out as a legit sidekick to Sammy Watkins, but it hasn't happened just yet. Robert has not been put into the perfect system yet either, though. The Bills have been searching for a quarterback, but with the great possibility of them releasing Tyrod Taylor, it looks as if the carousel is going to keep on moving. A fresh start for Robert could prove to be the steal of the year. Woods has had 40+ receptions and 550+ yards in all four years. I see him staying in the AFC with teams like the Bengals and Titans heavily interested. Robert might be able to produce bigger numbers with a better quarterback in Andy Dalton.
Pierre Garcon:
After 4 young players that have yet to hit their primes, in comes old reliable. Garcon has been underrated his entire career, and he would be able to be productive right away. Most people don't realize that he went over 1,000 yards last season, catching 79 balls, the second-most in his career. Even though this will be his 10th season in the NFL, he has some good years left. Since it seems inevitable that he will be able to at least test the market he could be a great find. For teams that are searching for a receiver to compliment their top wideout, Pierre could push them to the next level. If the Texans are able to figure out their quarterback situation, I see Garcon giving them the easy edge in the AFC South next year.
If you can notice there might be a trend- wide receivers and defensive backs. With the league moving continually to a more pass happy game, finding players at these positions for cheap is what differentiates the teams that are playing in January from the ones that are annually hearing their names be called early on in the draft. These guys won't break your team's bank, so they're worth the shot.