The Indiana Pacers are in a state of limbo. They have, what they believe to be, a certified superstar in Victor Oladipo — but his injuries have lowered their ceiling while still maintaining a playoff-caliber floor. This leaves them in the far too murky middle: Too much talent to tank for a superstar but enough talent to win games. This uncertainty coulds their judgment on the path they must take in order to succeed.
This offseason, they chose their direction and decided to pull themselves out of the mud and attempt to see the far clearer NBA top tier. They did this with a few important additions and, much more notably, the lack of subtractions:
Myles Turner and Domantas Sabonis are not a perfect fit. Yet, they are both incredible players deserving of a starting role. According to Nate Mcmillan, they will both finally be awarded that role. He answered swiftly when asked this off-season:
"Absolutely"
Their numbers while on the floor together have been anything but remarkable over the last two years yet they are both far too valuable to have one left on the bench. Over the last two seasons, these two players have played 698 minutes together (Thad Young and Myles Turner played 1557 minutes together last year). In 2018, they posted a disastrous -8.8 Net Rating, however, in 2019, they were able to notch a positive Net Rating of 3.8 in nearly 200 more minutes.
In theory, this tandem should work. Turner is the athletic three-point shooter while Sabonis is the post-up-dominant rebounder, however, their defensive positions are swapped for what is optimal. Turner needs to guard centers while Sabonis will be tasked with guarding quicker and smaller power forwards. This may lead to defensive struggles as teams purposefully go smaller against Sabonis. The Pacers are hoping his incredible post-up ability will lead to easy buckets against smaller players, offsetting the potential and eventual Sabonis defensive slipups.
This lineup will surely help them to secure more rebounds. Their starting lineup last year, the one sans-Sabonis, was the worst rebounding lineup by rebound percentage of any of the top 20 most used starting lineups in the NBA last season. Turner is a woeful rebounder and allowing him to stay all the way away from offensive rebounds, and not be solely responsible for defensive chances, will surely relieve some pressure.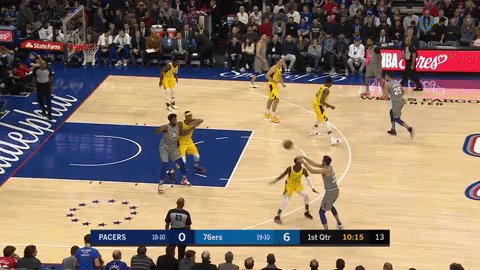 Sabonis is an aggressive and powerful rebounder and his implementation into the starting lineup will certainly lead to second chances and successful defensive possessions. Jeremy Lamb will also be a nice rebounding presence on this team as he is consistently one of the best rebounding guards in the NBA and likely will be asked to grab around the five rebounds per game he captured last year.
The Indiana Pacers were also able to add major backcourt assistance with one of the most efficient players in the NBA. A 50-40-90 pass holder, Malcolm Brogdon, will give the Pacers some much-needed consistency aside Oladipo while also being able to fill the gap in the waiting game that is Oladipo's timetable on returning to NBA play.
A starting lineup of Brogdon-Oladipo-Lamb-Sabonis-Turner will be rolled out at some point in this NBA season and even if Oladipo is 85 percent what he was in his initial breakout Pacers season, that should be a unit that fights for a top-four playoff spot in the murky middle of conferences, the East.
One area of concern will be their offensive creation. They may struggle as their second-best ballhandler, Brogdon, is a brick and mortar type point guard/shooting guard. Brogdon pulls around a screen and makes the pass most often made or continues downhill towards the rim. The lack of fluctuation is what makes him exceedingly efficient but is also why his role will always be reserved to secondary ballhandler.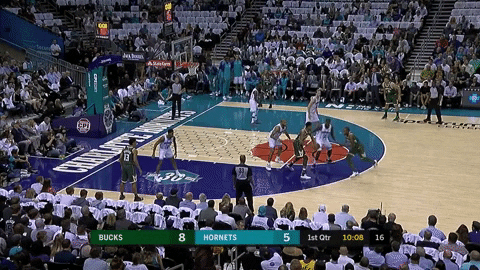 Aside from that, he waits patiently for the right shot. This is both a gift and a restriction as just like his lack of improvisation on the way to the rim, he won't take a shot unless he absolutely should or absolutely has to.
The Indiana Pacers do have other options. The best of which being that they could feed Domantas Sabonis in the post more. He is an excellent passer and could easily work the high post with actions flying around him until he hits the open man. Imagine, Oladipo flying around a double off-ball screen with Brogdon in the corner, Lamb flying into the paint and Turner popping to the outside. Another option is to allow him to take more shots down low. He is very good at establishing position and yet he had just over two post-up possessions a game last year. This, despite being one of only two players to have a field goal percentage of 58.8 percent or more while posting up twice or more per game.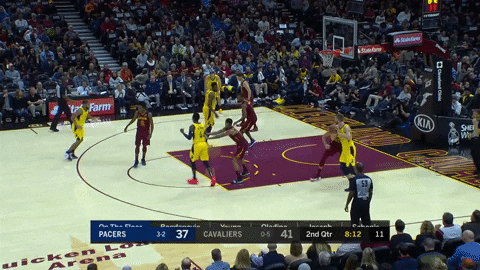 This Indiana Pacers team is attempting to run to the top of a hill that teams like the Bucks, Sixers, and Raptors view as a plateau. They are a team with many new pieces, a brand new starting lineup, but lack an established star to secure them to the top of the playoff hill. However, their attempt to see clearly was not a disaster. The league has never been so balanced and the Pacers are just the kind of team that could find themselves of the murky mud and into the clear blue sky.