The 2023 NBA Draft is one of the more highly anticipated drafts in the past decade partly because of the talent at the top of the draft. Def Pen Sports will be breaking down 14 of the best NBA prospects that have declared for the draft this year. Scoot Henderson is our first and only G-League Ignite player in this series, an explosive point guard likely to go in the top two of this year's draft. Henderson was a member of the 2021 recruiting class similar to the Thompson twins but chose to skip college in favor of the G-League. Henderson secured a two-year one million dollar payday to skip school. Throughout it all he's continued to be seen as an excellent prospect and has never dropped below being seen as a top-three prospect in this draft. He's likely to be taken second overall although Brandon Miller has begun to nip at his heels for that spot to some people. Regardless Henderson will be at worst a top-three selection in next week's NBA Draft.
Athleticism
Henderson is electric on a basketball court, he attacks the rim with a furor few players in the game do. He not only jumps high but has an explosive first step that not many are able to keep up. His ability to rise up over defenders in the lane is extremely impressive and he glides around the court with and without the ball. In the open floor, he is a marvel to watch especially at his size as a guard. And when he does get around the rim he consistently finishes with real explosion whether with dunks or using a multitude of finishes oftentimes through contact. He also has an extra gear he can hit to beat defenders off the dribble, which is important as teams tend to sag off him a bit because of his shaky jumper from deep.
The athleticism isn't just a factor for offensive reasons, it also helps him defensively where his ability to recover is a strength of his. He's also an excellent weakside defender who can cover ground and combine his leaping ability to make weakside blocks and jump passing lanes. His willingness to be an active defender, especially off the ball when combined with his ability to move and leap creates a pretty impressive defender in addition to the top-notch offensive game he possesses.
IQ/Feel
Henderson isn't just a scorer and transition player. He's an excellent passer and playmaker who averaged six and a half assists per game this season. Scoot is good at finding guys whether in the pick and roll or when driving the ball and finding open shooters and cutters. His passes are accurate and on time and while he may not be a double-digit assists player at the next level, it wouldn't be a shock to see him consistently fill in the six to eight assist range. Henderson's ability to find the roll-man and shooters cross-court shows great vision and that he's a very willing passer. In addition to the passing his ability to maneuver his way to the basket when using screens and change of speeds is what helps make him special. Most guys with his explosiveness don't have that feel on how to shift and adjust speeds but Henderson has that feel to his game at such a young age.
Weakness: Shooting Range
Henderson has shown an ability to knock down pull-up jumpers in the mid-range at a solid clip. When he's asked to stretch that out to the three-point line is when the issues pop up. He shot just 31% this past season from three-point range. On the positive side, he has shown some improvement as a spot-up shooter already which shows that the work is being done. As of now, he gets a lot of teams trying to go under screens on him and he's been inconsistent when shooting off the bounce those times. Although we've seen improvement in his spot-up shooting it can still be better and will need to be to unlock his full offensive repertoire.
NBA Comparison: Derrick Rose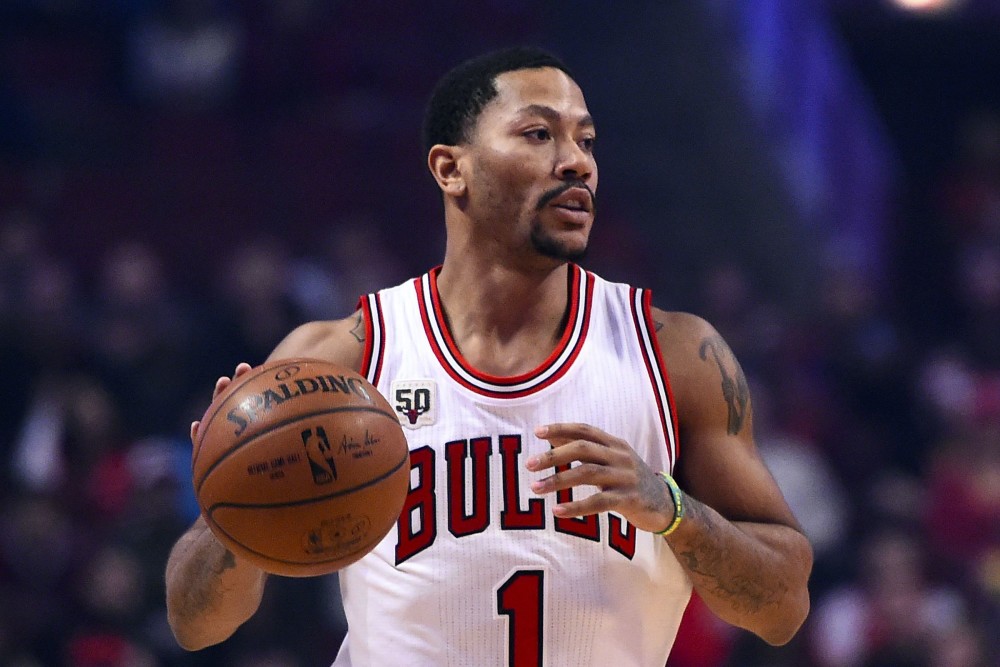 Scoot Henderson has some flashes of a young Derrick Rose before his first knee injury. The power and fury in which both attack the rim and have a multitude of ways of finishing around the rim. Neither excelled with their jumpers but find ways to negate that issue and use great speed and explosiveness to get where they want on the court. They both are strong while not being overly massive lead guards in terms of their heights. The speed in the open floor also shines through for both and while neither were excellent defenders they did show a willingness to compete on that end. To say that Henderson will reach pre-injury Derrick Rose is lofty expectations but this is more about the traits they both possess and a style of play instead of actual expectations. Henderson has a real chance to be a star in this league and if he can reach his potential he will be a top player in the NBA.