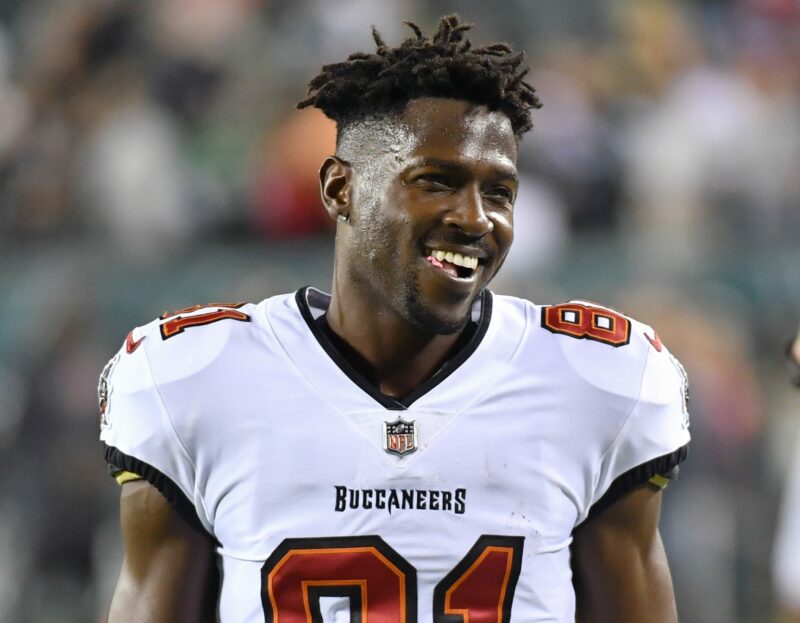 Playoff football is right around the corner as the NFL plays the first-ever Week 18. The Def Pen Sports team has analyzed the Week 17 games and made the needed adjustments for Week 18 of the 2021 NFL Power Rankings. The contributors to this week's rankings are Dylan Hargis and Xavier Santos. Team names will be followed by their record and the number of spots they moved up or down from last week's rankings
2021 NFL Power Rankings: Week 18 
1. Green Bay Packers 13-3 (-)
The chasm between the Packers and the rest of the NFC has gotten larger. They are the favorites to represent the NFC in the Super Bowl.
2. Tampa Bay Buccaneers 12-4 (+2)
Antonio Brown could not have picked a worse time to be Antonio Brown. Thankfully for the Buccaneers, Tom Brady continues to be Tom Brady. Health is will be important for this team as they move forward but as long as they have Tom Brady, they have a chance.
3. Los Angeles Rams 12-4 (+2)
Matthew Stafford's play is the reason this team is better than last year's team but it's also the reason why it's hard to trust them. His inconsistency has to be maddening for fans of the team. When he's on, there are a few quarterbacks you'd rather have behind center for you. When he's off, you start to question whether Jared Golf was wrongfully maligned.
4. Tennessee Titans 11-5 (+2)
A dominating win over the Dolphins and a little bit of Joe Burrow magic have the Titans controlling their own destiny for the number one overall seed. This team could end up with a first-round bye and a healthy Derrick Henry. The rich get richer.
5. Kansas City Chiefs 11-5 (-3)
Patrick Mahomes and the Kansas City offense did more than enough to win. That being said Joe Burrow and Ja'Marr Chase are playing on an entirely different level right now. Kansas City is still poised to be a serious Super Bowl threat.
6. Arizona Cardinals 11-5 (+1)
Did the Cardinals win or did the Cowboys lose that game? It's impossible to tell. Both teams shot themselves in the foot time after time and it's unfortunate someone had to be declared the winner. The Cardinals are undisciplined and have a knack for committing penalties at the worst possible time. If this team hopes on making noise come playoff time, they will have to play smarter and more effectively.
7. Dallas Cowboys 11-5 (-4)
The loss of Michael Gallup stings but his absence wont be the reason this team fizzles out in the postseason. Dak Prescott has to play better. The offensive line has to protect better. When he isn't catching an interception, Travon Diggs is likely getting burnt in coverage. This team is too talented to lay as many eggs as they have this season.
8. Cincinnati Bengals 10-6 (-)
Joe Burrow has won the Bengals the AFC North and with that comes a home playoff game. There may not be much to do in the city of Cincinnati, but the entire area is likely celebrating with the team right now.
9. Buffalo Bills 10-6 (-)
The Bills are a win against the Jets away from getting a home playoff game and blocking the New England Patriots from a division title for the second year in a row. That has to feel really good.
10. New England Patriots 10-6 (+1)
Can the Patriots win road playoff games with a rookie quarterback? They might get one, but that is when we expect the magic to stop for this team. Let's see what Mac Jones looks like next year.
11. Indianapolis Colts 9-7 (-1)
This team needs to learn a lesson and learn it quickly. Hand Jonathan Taylor the ball as often as possible. Carson Wentz is not good enough to carry this team to victories at a consistent rate. They will live and die by the run game.
12. Los Angeles Chargers 9-7 (-)
The showdown with the Raiders should have major playoff implications with the loser possibly being left out in the cold. Justin Herbert is good enough to win on his best days, but will Sunday be one of those days?
13. Las Vegas Raiders 9-7 (-)
This team has overcome some massive off-the-field problems and now will get a chance to make the playoffs. Derek Carr has a limited amount of time to prove to the team he can be the guy that wins the big games.
14. San Francisco 49ers 9-7 (-)
Trey Lance isn't ready to lead this team on a deep playoff run. For this season and this season only, it's clear why Kyle Shanahan felt Jimmy Garoppolo gave them the best chance to win. Can they finish strong in the 2021 NFL Power Rankings?
15. Philadelphia Eagles 9-7 (-)
Jalen Hurts made plays when it mattered and helped his team secure a playoff berth. Hurts' future will be the topic of the offseason but for now, their improbable season should be celebrated.
16. Pittsburgh Steelers 8-7-1 (+2)
This team needs quite a bit of help to make the playoffs, but a beatdown of the Browns kept them alive. Ben Roethlisberger is likely set to play his very last NFL game on Sunday and it comes against the Baltimore Ravens.
17. New Orleans Saints 8-8 (+6)
That defense deserves better. With the right moves, the Saints could contend for a division crown next year. For now, we have to continue to watch Taysom Hill commit embezzlement on a weekly basis. His contract(s) continue to boggle the mind.
18. Baltimore Ravens 8-8 (-2)
Injuries were the downfall of the Ravens this year and eventually, they just became too much for the team to overcome. A few positions need to be addressed for next year, but the biggest thing this team needs to some sage to clear out the bad omens.
19. Cleveland Browns 7-9 (-2)
What else can we say other than we told you so? Baker Mayfield is not a franchise quarterback. The Browns have a talented roster and need to find a capable quarterback to match the talent on the rest of the roster.
20. Miami Dolphins 8-8 (-)
Despite how bad they've been this year this team had a chance to make the playoffs. We get that the Titans are a good football team, but that was embarrassing. At 8-8, the Dolphins remain an average-at-best team on the 2021 NFL Power Rankings.
21. Denver Broncos 7-9 (-2)
While a better quarterback would absolutely help this team they really need a new coaching staff. Playcalling has been terrible and the decision-making even worse. It might be time to just clean house and start over from scratch.
22. Atlanta Falcons 7-9 (-1)
Matt Ryan being flagged for taunting on what he thought was a touchdown run, only to have the touchdown called back and have the penalty cost them a chance at a potentially game-saving touchdown is Atlanta Falcon football at its finest.
23. Minnesota Vikings 7-9 (-1)
Kirk Cousins is so average it hurts, and yet, would fetch a haul in a trade. That says more about the state of the quarterback position than it does about him as a player. Mike Zimmer is carrying himself like a dead man walking. He sees the writing on the wall and the Vikings are hoping a change at coach will take this team to the next level.
24. Chicago Bears 6-10 (+1)
The Bears held Mike Glennon to 24 yards and two interceptions on Sunday. We aren't that impressed considering how bad the Giants have looked all year. This team is lucky to be this high on the 2021 NFL Power Rankings.
25. Seattle Seahawks 6-10 (+1)
We may just see Russell Wilson's final game as a member of the Seahawks on Sunday. Seeing Pete Carroll's final game there on Sunday is almost a certainty at this point.
26. Washington Football Team 6-10 (-2)
The team played hard but didn't make enough winning plays to pull out the victory. Ryan Fitzpatrick isn't good enough to elevate this roster and it's time for the Football Team to explore ways to land their next franchise quarterback.
27. Carolina Panthers 5-11 (-)
Sam Darnold played better than Cam Newton has the past few weeks but that doesn't necessarily mean he played well. This team's future quarterback isn't on the roster yet.
28. Houston Texans 4-12 (-)
This team isn't very good at football and even though they play the Jaguars twice we are shocked they have four wins on the season.
29. New York Jets 4-12 (-)
Is Zach Wilson a future franchise quarterback? Surprisingly we aren't ready to give up on him, but for goodness sake can we put some more talent around him next year? The Jets are a 2021 NFL Power Rankings bottom feeder.
30. New York Giants 4-12 (-)
Joe Judge is an unmitigated disaster. He may have won over owner John Mara with his cliches and empty rhetoric, but Giants fans and anyone with a functioning brain isn't buying what the Giants coach is selling. It was announced that Judge will be returning for next season, but the wise thing to do would be to cut bait now. Trying to hire a general manager with a coach in place is going to narrow the field of eligible candidates.
31. Detroit Lions 2-13-1 (-)
With the second pick in the 2022 NFL Draft, the Detroit Lions select….
32. Jacksonville Jaguars 2-14 (-)
With the first pick in the 2022 NFL Draft, the Jacksonville Jaguars select….
* The biggest movers of the week were the New Orleans Saints (+6) and the Dallas Cowboys (-4) *