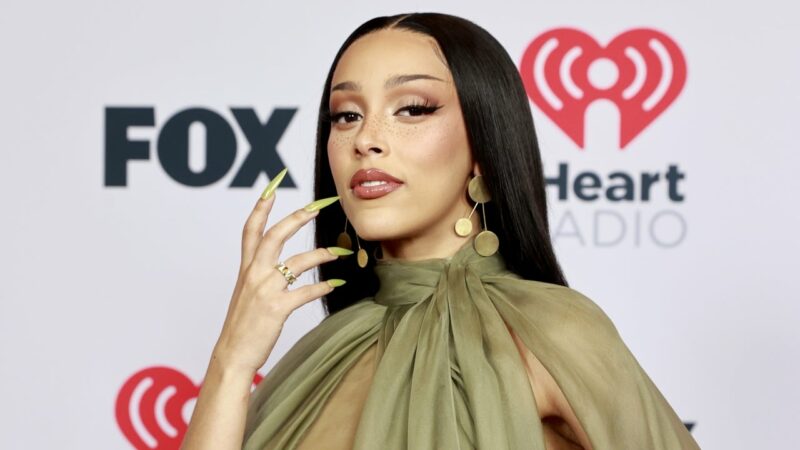 The 2021 iHeartRadio Music Awards Red Carpet has just shut down. Usher, Lil' Nas X and Doja Cat all looked incredible and shined bright on one of music's biggest stages. Adding to the excitement, a few awards were handed out as well. Tying everything together, Emily Curl, Maxwell, Amy Brown and Elvis Duran laughed, joke and brought some feel-good energy to music lovers across the map. Looking back at tonight's red carpet, here are the top four moments from 2021 iHeartRadio Music Awards pre-show.
H.E.R Talks About Winning Her First Academy Award
Steady as a ROCK @HERMusicx #iHeartAwards2021 pic.twitter.com/fVtzWk6fGz

— iHeartRadio (@iHeartRadio) May 27, 2021
In case you missed it, H.E.R has been killing it this year. At the top of the year, she won a few GRAMMY Awards and then she won her first Academy Award. Halfway to an EGOT, she talked briefly to Elvis Duran about what it's like to have accomplished so much in just the first six months of the year.
"As far as the road to an EGOT is concerned, you already have a GRAMMY and you have an Oscar. You have a GO," Duran said.
"Yes, I do have a GO. We just need the ET," H.E.R answered.
Dan + Shay Win "Best Duo/Group Of The Year" Race
.@DanAndShay don't forget to pour me a shot of tequila too guys ?? #iHeartAwards2021 pic.twitter.com/Hkc2YMZ0R4

— iHeartRadio (@iHeartRadio) May 27, 2021
When the list of nominees were shared back in April, many fans debated who would win the "Best Dup/Group of the Year" award. BTS, Marron 5 and the Jonas Brothers emerged as the early favorites to win the award. Lurking the background, Dan + Shay steadily made their case to win the award. Tonight, their hard work paid off. While on the red carpet, the two were shocked to be presented with the award, which made for a warm and hilarious moment.
Ingrid Andress Teases New Music
Yeah @IngridAndress is officially our new best friend. ??#iHeartAwards2021 pic.twitter.com/SJa2BbLeJU

— iHeartCountry (@iHeartCountry) May 27, 2021
Ingrid Andress wasn't able to make it out to Hollywood for the full show, but she did stop by the red carpet in Nashville. It turns out she was a woman on a mission. While speaking with Amy Brown, she mentioned that she has new music on the way and that her tour with Dan + Shay will continue this fall after being postponed due to the pandemic.
Doja Cat Previews Her Next Album
Don't play with my heart @DojaCat ? I need new music STAT!! ?

TUNE IN to the #iHeartAwards2021 8/7c on @FOXTV! pic.twitter.com/sCWJNBRvPn

— iHeartRadio (@iHeartRadio) May 27, 2021
Doja Cat looked stunning as she always does and she offered a bit of insight into her next album, Planet Her. While talking to Elvis Duran, she said that her new album will focus on different relationships that she's had. She also noted that her new album will be based in space, not literally but figuratively. Unfortunately, she didn't mention anything about a potential release date, but we'll take what we can get.