The 2019 NBA Draft has come and gone, and yes it is time to look ahead. Maybe a bit early, but it's time. The 2020 NBA Draft class looks to be a strong one with plenty of upside. The top spot will likely be heavily contested throughout the cycle, unlike the 2019 Draft. It appears there will be plenty of versatility spread out in this class and a plethora of quality international prospects. Let's take a look at some names to watch out for in our first 2020 NBA Mock Draft.
It is important to note the draft order used here is based on this past year's order by the team record, not draft position outside of future draft picks owed. With it being too early for real projections, this was the choice of action. Also, team needs are not being taken into consideration.
2020 NBA Mock Draft
1. New York Knicks
Anthony Edwards: Combo Guard- Georgia
Anthony Edwards is an elite scoring guard who will, regardless if its fair or not, garner James Harden comparisons. Edwards has an elite, mature arsenal of scoring moves at all three levels and the athleticism to overpower defenders if needed. So long as he can show efficiency in a team setting and impactfulness on defense, Edwards will likely lead the pack in this draft cycle.
2. Cleveland Cavaliers
Deni Avdija: Wing- Maccabi Tel Aviv
Deni Avdija is likely more of a point forward. Standing at 6-foot-8 with elite playmaking skills at his age, Avdija possesses a highly desirable skill-set for his size. He is a high-IQ and feel player who can make quick decisions and utilize that ability to be an impactful slasher attacking the rim.
3. Phoenix Suns
James Wiseman: Big- Memphis
James Wiseman will be a popular candidate for the top spot in the draft. Wiseman is an incredibly athletic 7-foot-1 center with physical tools worth salivating over. He fits the mold of the ideal modern center with his quickness laterally and vertical explosiveness. There have been flashes of a viable jump shot, which would truly unlock his potential. An aspect that Wiseman has to prove will be his defensive IQ and being able to protect the rim.
4. Chicago Bulls
RJ Hampton: Lead Guard- New Zealand Breakers
RJ Hampton made waves when he decided to bypass the NCAA and play in Australia's NBL. Hampton is a do-it-all point guard who can score from anywhere on the floor. He also possesses great size at 6-foot-5 with the athleticism to cause problems on both ends of the floor. His time playing professional basketball should only serve him well.
5. Atlanta Hawks
Theo Maledon: Lead Guard- Villeurbanne
Theo Maledon is a great open-court athlete with good size at near 6-foot-5. Maledon should have the off-the-dribble ability to play either guard position. He is impressively skilled for his age displaying touch when attacking the rim. His size and athleticism also lends itself to a high ceiling on the defensive end of the floor, too.
6. Washington Wizards
Jalen McDaniels: Big- Washington
Jalen McDaniels is the extremely fluid type of big man with terrific ball skills for his size. At 6-foot-11, McDaniels can handle the ball and create his own offense. His basketball IQ is still growing, but the combination of his size, length, and skill-set will naturally be enticing for NBA teams. If he can prove that he can continue his production at the next level, he may rise even higher in draft projections.
7. Dallas Mavericks
Scottie Lewis: Wing- Florida
Scottie Lewis is likely the best defender in the class by a decent margin. Lewis absolutely loves playing defense and prides himself on his IQ, as well as disrupting teams both on and off the ball. Lewis' offense is mostly slashing, but he has the explosive athleticism and length to get to the basket and finish at the rim. If Lewis can improve his 3-point jumper, he may sneak up many draft boards.
8. Memphis Grizzlies
Wendell Moore: Wing- Duke
Wendell Moore looks to be the highest rated blue blood prospect early on in the process. Moore is a two-way wing player with athleticism to make opponents very uncomfortable. At 6-foot-6 with an estimated 6-foot-11 wingspan, Moore has the prototypical size for an impactful wing. Moore is a great slasher who can move the ball within an offense and knock down some shots. He will need to improve his off-the-dribble creation and deep jumper, but the foundation is intriguing.
9. New Orleans Pelicans
Nico Mannion: Lead Guard- Arizona
Nico Mannion is an incredibly smart and crafty lead guard with the off-the-dribble scoring ability that is desired of modern point guards. His vision will be one of the best in the class and he can put pressure on defenses with his threat of passing and scoring moves. His questionable wingspan will cause concerns on defense, but he has the quickness and motor to get into players at the point of attack,
10. Minnesota Timberwolves
Cole Anthony: Lead Guard- UNC
The son of former NBA player Greg Anthony, Cole Anthony has been one of the most highly touted freshmen in the class. Anthony has the dynamic scoring ability to play either guard spot with the passing ability to be a viable point guard. There are concerns about Anthony's defensive ability and engagement, but the caliber of player Anthony is bodes well for his development.
11. Los Angeles Lakers
Josiah James: Wing- Tennessee
Josiah James has some point forward skills to him, as he did play lead guard often in high school. At 6-foot-6, James will likely find himself as a secondary initiator on the wing- a valuable role for any offense. His high-level feel and length serve him well on defense. James is a true versatile two-way talent with the ability to grow.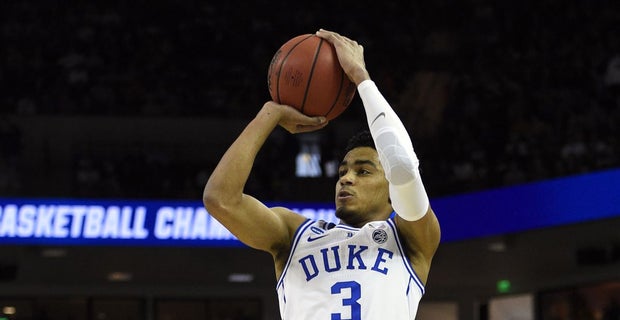 12. Charlotte Hornets
Tre Jones: Lead Guard- Duke
Tre Jones will look to solidify his lottery status in his 2nd year at Duke. Jones is an elite point of attack defender with high-level passing acumen. The key for Jones will be developing his jumper, primary his pull-up jump shot that can make him dangerous out of pick-n-roll situations.
13. Miami Heat
Josh Green: Wing- Arizona
Josh Green is an uber-athletic wing who is more of an upside gamble at the moment. He appears to be a guy who could either fall or rise in a major way. Green is a slasher that can get to the rim almost at will. He will need to improve the consistency of his jumper and defensive awareness, but Green has the tools and motor to become a successful NBA player.
14. Sacramento Kings
Tyrese Maxey: Combo Guard- Kentucky
Tyrese Maxey is a 6-foot-3 combo guard who may end up being positionally awkward. He may be too small to play the 2, but his skill-set isn't quite that of a lead guard. He has the elite scoring chops to play in the backcourt featuring a jumper that has been growing more consistent. He is a might motor player, who can manufacture points seemingly out of nothing. Maxey will need to improve his overall defense, and his passing acumen if he intends to play lead guard, and he could see his stock rise.
15. Detroit Pistons
Patrick Williams: Wing- Florida State
Patrick Williams projects as a major contributor as an underrated freshman. Williams is a strong two-way wing who has an intriguing arsenal of scoring moves off the dribble. He will have to answer questions about his ability to play within an offense, but he has an alluring foundation.
16. Orlando Magic
Killian Hayes: Combo Guard- Cholet
Killian Hayes is a long, athletic combo guard who has high-level passing ability for his age. Hayes has shown an appealing capacity for passing out of pick-n-roll possessions. He has a quick burst off the dribble and will keep defenses on their heels. Hayes will need to continue to improve his understanding of the game as well as his jumper, both off the dribble and the catch.
17. Brooklyn Nets
LaMelo Ball: Lead Guard- Illawarra Hawks
Lamelo Ball made the decision to play in Australia's NBL recently for his final year of NBA draft prep. Ball is incredibly intriguing and could find himself in the top 10 of the draft when its all said and done. The social media sensation is an elite passer and has a serious knack for scoring. At a reported 6-foot-7, the defensive upside is through the roof, too. Major questions lie in his ability to be effective in a team setting on both ends, as well as his overall effort on the defensive end.
18. Indiana Pacers
Amar Sylla: Big- Real Madrid
Amar Sylla stands at 6-foot-9 with an over 7-foot-2 wingspan. Along with those measurements, Sylla is incredibly fluid in his mobility. Sylla also has the ball skills to operate from the perimeter and high post attacking the basket. He has displayed some touch with his jumper but will want to improve his overall marksmanship on a consistent basis. His physical tools also offer a mouthwatering defensive upside. If Sylla can put it all together during this year, he could see his stock skyrocket.
19. San Antonio Spurs
Isaiah Joe: Wing- Arkansas
Isaiah Joe will be an under the radar guy at first, but his elite shooting ability and active defensive motor will grab mainstream attention. Joe shot an insane 41% on 8 3-point attempts per game at Arkansas last season. Joe has a valuable foundation as a 3-and-D player, but can likely grow to become a more well-rounded player.
20. Los Angeles Clippers
Isaiah Stewart: Big- Washington
Isaiah Stewart is a very high motor big man who will make a living off frustrating the opposition. Stewart is a terrific athlete at 6-foot-10. He crashes the boards with ferocity and will wear out opponents with his defense. He's got good instincts but looks a step slow sometimes when processing the game. Stewart has shown some flashes of a mid-range jump shot. If he can force teams to respect his jumper, even in the mid-range, that opens up the floor for the active freshman.
21. Boston Celtics
Matthew Hurt: Big- Duke
Matthew Hurt made his name off being an elite shooter off the catch at 6-foot-9. Hurt is the mold of a modern power forward. He is mobile and can shoot with interesting diversity. His questions lie in how much he can impact the game if his shot isn't falling as well as what his defensive profile will look like.
22. Philadelphia 76ers (via OKC Thunder)
Cassius Winston: Lead Guard- Michigan State
Cassius Winston is a high-floor senior point guard who rarely makes a mistake. The senior is a steady hand who is an outstanding deep shooter and a pest on defense. Given his age, he may not have a terribly high ceiling, but Winston will be one of the safest picks in the first round.
23. Utah Jazz
Vernon Carey: Big- Duke
Vernon Carey was one of the top players out of high school, but there are concerns about how his skill-set translates to the NBA. Carey is a strong player who can impose his will in the post to manufacture points. At 6-foot-10 and long, Carey has a high defensive ceiling. However, he has shown to be a step slow on defense and has not consistently displayed reliable offense outside of the paint.
24. Brooklyn Nets (via Philadelphia 76ers)
Ayo Dosunmu: Wing- Illinois
Ayo Dosunmu is a versatile wing who can do a little bit of everything. An athletic and active player, Dosunmu brings an energy to the floor on both ends. Right now, Dosunmu doesn't excel at any one thing in particular but has the tools to become a well-rounded contributor. He will likely need to show that he has a bankable skill as a sophomore at Illinois, though.
25. Houston Rockets
Kahlil Whitney: Wing- Kentucky
Kahlil Whitney is an elite athlete whose skills are finally beginning to catch up to his physical tools. Whitney has long legs and often uses his stride and burst to get by defenders. His jumper is beginning to take shape but does still need work. His physical tools are enticing, but he will need to polish his skills with more dribble moves and an increase in his feel for the game.
26. Portland Trail Blazers
Tyrese Haliburton: Lead Guard- Iowa State
Tyrese Haliburton is a sophomore point guard who rarely makes mistakes with the ball and can fire from deep. Haliburton likely won't make many highlight plays, but he is an active defensive playmaker and at a long 6-foot-5 has the size to suffocate the point of attack.
27. Denver Nuggets
Malcolm Cazalon: Wing- Bourg
Malcolm Cazalon right now is a raw player who has displayed appealing athleticism with slashing capacity to put pressure on defenses. Cazalon has a high motor that serves him well on both ends. He will need to polish off his actual basketball skills- specifically scoring moves and feel within an offense, but his tools are intriguing enough to track with a late first-round selection in mind.
28. Golden State Warriors
Joe Weiskamp: Wing- Iowa
Joe Weiskamp was a steady hand for Iowa last year. Weiskamp shot 42% from deep as a freshman, with plenty of enticing movement jumpers that he showed off. Weiskamp possesses a very high IQ and feel for the game. He will be a positive team defender while adding a crucial spacing element to an offense. If he can continue improving with a larger volume this season, he will be firmly in the conversation in this range,
29. Toronto Raptors
AJ Lawson: Wing- South Carolina
AJ Lawson is a guy who projects as a utility wing with good touch as a slasher on offense. At 6-foot-6, Lawson is the type of versatile defender that teams crave in their wing players. Lawson can create his own offense but will need to improve his jumper in order for defenses to respect him from everywhere on the court.
30. Boston Celtics (via Milwaukee Bucks)
Jeremiah Robinson-Earl: Combo Forward- Villanova
Jeremiah Robinson-Earl improved his buzz during his senior year. Robinson-Earl displayed an improved face-up game that featured an ability to score off dribble moves. His jumper and overall athleticism began blossoming as well. If he can continue improving at the next level, his skill-set and mobility will be worthy of first-round buzz.