The 2019 NBA Draft might see brothers get selected in back-to-back drafts but following in the footsteps over overshadowing older siblings typically means a downfall for young athletes. But it might not for Jontay Porter. Porter made a name for himself while play alongside his older brother, 2018 NBA Draft lottery pick Michael Porter Jr, at the University of Missouri. Jontay managed to make a name for himself on the Tigers team due in part to his brother's season-ending injury. Although he pulled his name out of the draft last year, the 2019 NBA Draft hopeful decided to leave his name in past the May 30th deadline, and thus begins his post-collegiate career.
19th Luka Samanic
29th Grant Williams
49th Jontay Porter https://t.co/7roRUMCSux

— Spurs Are coming ? (@spursnxt) June 7, 2019
Porter's hopes of being taken in the lottery, or even the first round, faded away long before he declared for the draft. Porter, who entered this past season as a sophomore at Mizzou, suffered both a torn MCL and ACL in a scrimmage before the start of the 2018-19 season.
Defense
Porter, who gained over two inches in between his commitment to Mizzou's 2017 class and his first game there, proved his worth on the defensive side during his tenure at Missouri, swatting away nearly two shots a game. His 6'11 size and allows him to attack shooters and a 7'0″ wingspan provide an extra inch of reach to strip ball handlers. He added in almost one steal and seven rebounds a game as well.
Shooting
Jontay Porter's length and size normally deter effective shooting ability, especially from long range. But as of late, we're seeing more and more of the stretch-4's ability to sling it from deep. Porter, over his first and only season, played at Mizzou, shot a decent 37% from deep, attempting roughly 3.5 attempts a game. He added with a 41% from inside the arc attempting a little over 4 shots a game. Porter averaged 9.9 points per.
Potential
Porter came into his freshman season with the expectation to be a bench/role player at Mizzou. He quickly stepped up with the loss of brother Michael Porter Jr, exceeding expectations with a decent freshman stat line. He works well with the pick and roll when paired with a capable point guard, he is a capable ball handler at the center position and has good court vision with the ability to rack up assists.
Jontay Porter with an active 24 points 7 rebounds and 6 assist last night. Here are some offensive highlights from the Freshman. Starting with his assist, and then his scoring. The last clip is a floater that Jontay has been struggling to consistently knock down in the paint. pic.twitter.com/CDTVu8z0lm

— NBA Draft Wire (@NBADraftWire) February 28, 2018
Weaknesses
Injury. Plain and simple. Porter followed along with the family tradition of season-ending injuries in college with his double tear of the ACL and MCL. While rehabilitating the injury five months later, he re-injured himself, tearing his ACL again on March 23rd.
Aside from injury, his weaknesses to his game include turnovers, his athleticism, and his inability to finish through contact, foul or not. Porter ended his freshman year with two turnovers a game.
During the 2019 NBA Draft combine, Porter ended up among the worst performers in the athleticism tests. Porter tested a standing vertical of 25.5 inches (tied for third worst), lane agility of 11.9 seconds (sixth worst), shuttle run of 3.09 seconds ( 12th best).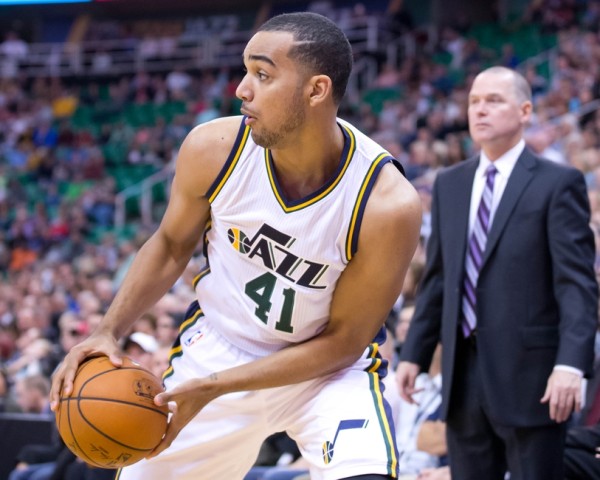 NBA Comparison
Denver Nuggets big-man Trey Lyes possesses all the same traits as Porter. He's a reliable shooter with acceptable ball- handling, good passer, but not all that quick off the ball or anywhere for that matter.
Lyles put up a promising rookie season with the Jazz but is now a role player for the Denver Nuggets. Porter's expectations coming into the league may not be as high as Lyles were but his career role should match-up the same.