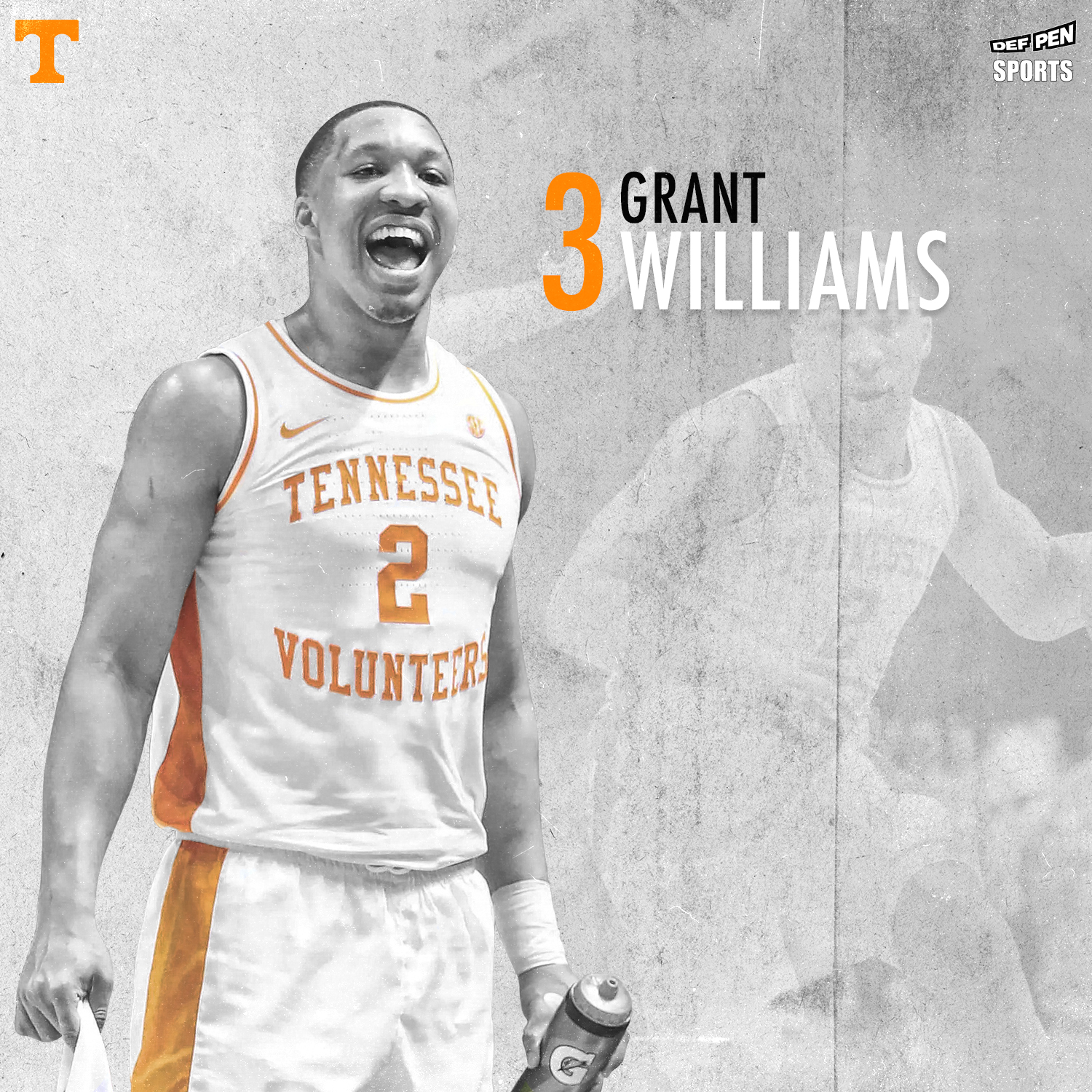 Tennessee forward Grant Williams has been a divisive prospect among draft scouts in the upcoming 2019 NBA Draft. "Draft Twitter" almost universally loves him, while we have seen some mainstream talking heads much lower on him. In an interesting way, most everyone seems to know what Grant Williams is, but the differences come with people's valuations of his skill set and what he can be.
Regardless of how you slice it, Grant Williams is a two-time SEC Player of the Year who has shown his caliber against elite talent on a consistent basis. Oh, and he can't legally go to a bar for another 5 months. Let's take a look at what Grant Williams brings to the table.
Grant Williams says NO. pic.twitter.com/wjaxHKRoPc

— CBS Sports (@CBSSports) March 24, 2019
Basketball IQ and Instincts
The first part of Grant Williams' game that pops out is how he processes the game in a composed manner. Williams never looks flustered. On offense, it's common to see Williams show patience with the ball as he scans the floor for his options. He doesn't need much time to process things, however. The junior forward is often one step ahead of defenses, picking points to attack defenses and whip incredible passes. Williams is an outlier level passer for his age and position, and its a clear indication of how well he processes the game.
He is one step ahead on defense, too. Never phased by the opposition, Williams calmly slaps the ball out of players' hands on quick moves and reads passing lanes as well as anyone in this class. He understands where players are likely to be in particular sets, and takes time to know his opposition.
Playmaking Ability
As previously mentioned, Grant Williams is an elite passer. In the context of his age and position, Williams' passing is at an outlier level. Out of the high post, low post, and even on the move, he has shown the ability to find unlikely recipients and deliver on-target dimes. Apart from that, Williams has the strength and tough shot-making ability that lends itself to manufacturing points when there doesn't seem to be much available. One of his go-to moves is a spin out of the high post as he frees himself from his defender while putting himself in position to get into a defender if needed as well. This goes hand-in-hand with his IQ, as Williams uses his quick thinking to maximize the production coming from his basketball talent.
Grant Williams is CLUTCH.

(? @Wendys) pic.twitter.com/zox9n4hnpE

— SportsCenter (@SportsCenter) February 28, 2019
Functional Strength
One often underrated aspect of athleticism, especially with NBA prospects, is just how strong they are and how they use that strength. Williams is notoriously strong, acting as a bruiser on both sides of the ball. He welcomes contact around the basket and often has the muscle to finish through it. Defensively, he allows nothing easy around the basket. Williams always makes sure his presence is felt. Most notably, his strength allows him to bang on the boards with anyone. A box-out from Williams is essentially a death sentence for your rebounding hopes save an over-the-back that goes uncalled. He's also arguably the strongest player in the 2019 NBA Draft.
Weaknesses
One of the more obvious weaknesses of Grant Williams is his lack of overall dynamic athleticism. Williams' won't blow anyone away with his vertical jump or lateral quickness, which poses some issues about his versatility at the next level. Many worry about if he can switch onto guards and athletic wings effectively as he lacks the elite wingspan to make up for the lateral quickness deficit.
There are also concerns regarding Williams' jumper. While there is reason for optimism, he shot a low-volume 33% from deep and did not always look comfortable with the ball on the perimeter. If Williams cannot reliably extend his range, his offensive value takes a big hit. The strength difference is smaller in the NBA, and he will need to have the ability to force defenses to respect his jumper.
NBA Player Comparison: Paul Millsap
Grant Williams is a bit of an odd player, as his modern style of play makes it hard to really fit him into a comparison. Paul Millsap is similar, though, in the way that he is a mobile forward who is smart and good at a little bit of everything, even if he's a master of none. Millsap, like Williams, is willing to get dirty and do the little things it takes to win but also possesses the skill level to be a focal part of a team coming out of the 2019 NBA Draft.