2019 NBA Draft prospect DeAndre Hunter, a Virginia forward fresh off a National Championship, is embarking on a new journey to the NBA. Hunter excelled under Tony Bennett and made a name for himself as an elite 3-and-D player who could find ways to manufacture points in other ways when needed. He won the ACC Sixth Man of the Year award in his first year active. He did miss the end of his freshman season with UVA due to a broken wrist but one year later, he was taking over the second half of a National Title game in route to a historic win.
Hunter looks to be an elite on-ball defender with an offensive game that is more than just spot-up three-pointers. He's not an entirely complete or polished prospect yet, but he does possess the tools to become a high-level contributor. Let's take a look at what the former, and possibly future, Cavalier brings to the table as a prospect.
Picking up where I left off yesterday and watching the 2nd half of that National Title game. Hunter takes Culver straight up here and makes it very difficult for him. Good example of Hunter's strength

(Good hedge and recovery by Diakite here too) pic.twitter.com/FB33vaW5xc

— Gabe (@AllDaySportTalk) June 9, 2019
On-Ball Defense
DeAndre Hunter's calling card is his elite on-ball defense. When guarding the ball both on the perimeter and inside the arc, Hunter displays legitimate lock-down ability. He uses his IQ and strength to make life tough for multiple positions. Hunter is quick and long enough to defend quick guards and wings, but also strong enough with proper size to guard some big men. Hunter has been known to engulf his opposition and simply give them nowhere to go.
His defense off the ball in a team setting is also underrated. Virginia's pack-line defense being a low risk-taking type of defense kept his stock numbers down, but he showed his IQ with important rotations.
Functional Strength
The Virginia forward is incredibly strong. And more importantly, he knows how to use his strength. In all facets of the game, Hunter uses his strength to his advantage and that could set him apart in the 2019 NBA Draft.
On offense, Hunter can muscle his way to the rim and finish with touch. With great core strength, he utilizes strong spin moves and body control through contact. Defensively, he pairs his strength with lateral quickness to create a human wall that players can't get by. Finishing through Hunter is a tough task for any player, including other elite prospects. The stoic star flashes his muscle on the boards as well. Hunter dishes immovable box-outs and uses his athleticism to erase rebound contests.
Culver leaves DeAndre Hunter in the corner, Jerome finds the open man- Hunter delivers in the clutch. pic.twitter.com/O3tlPERfLC

— Gabe (@AllDaySportTalk) June 9, 2019
Spot-up Shooting
The primary draw of Hunter's offense stems from his spot-up shooting. With the benefit of quality spacing and two crafty guards who drew attention, Hunter found himself with open looks from deep and mid-range- and he often cashed in.
Hunter shot 44% from deep last season, displaying fluid shooting mechanics that helped his consistency. Furthermore, Hunter's free throw shooting percentages improved to about 78%, a stat that is often predictive of next-level shooting success. While he can shoot off one-dribble pull-ups and the occasional moving shot, his spot-up shooting adds an important spacing value to any offense- especially if he is played at power forward.
Weaknesses
The first, and one of few, weakness is Hunter's lack of dribble moves and wiggle off the bounce. Hunter doesn't create separation well, which often means he has to muscle his way to the basket or pass it off. This creates a lack of shot diversity, in which most of his shots are spot-up from behind the arc, straight-line drives, or an easy midrange jumper. Naturally, he is easier to defend due to this.
Another weakness, albeit minor, is his low steal and block (stock) numbers. Virginia's pack-line defense doesn't call for taking many risks such as jumping passing lanes or over-extending help on defense. This resulted in Hunter's stock numbers taking a hit, as his job was to suffocate rather than make plays. He isn't entirely faultless, however. There were times when Hunter looked a step late to react on rotations in possible help-defense situations. The instinct and reaction time off the ball will be a key tool to sharpen in the NBA.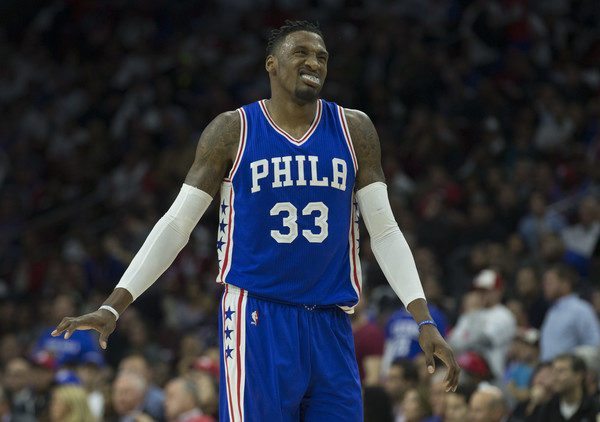 2019 NBA Draft Comparison: Robert Covington
The first reaction to a DeAndre Hunter comparison is to point to an elite 3-and-D player. DeAndre Hunter could be a more physical version of Covington with a little more in-between game in his arsenal. Covington is an elite defender who is known for guarding multiple positions at a high level. Pair that with a 3-point shot that bounces around the high 30% area on high volume and you see the foundation that Hunter can build early before adding to the rest of his game.