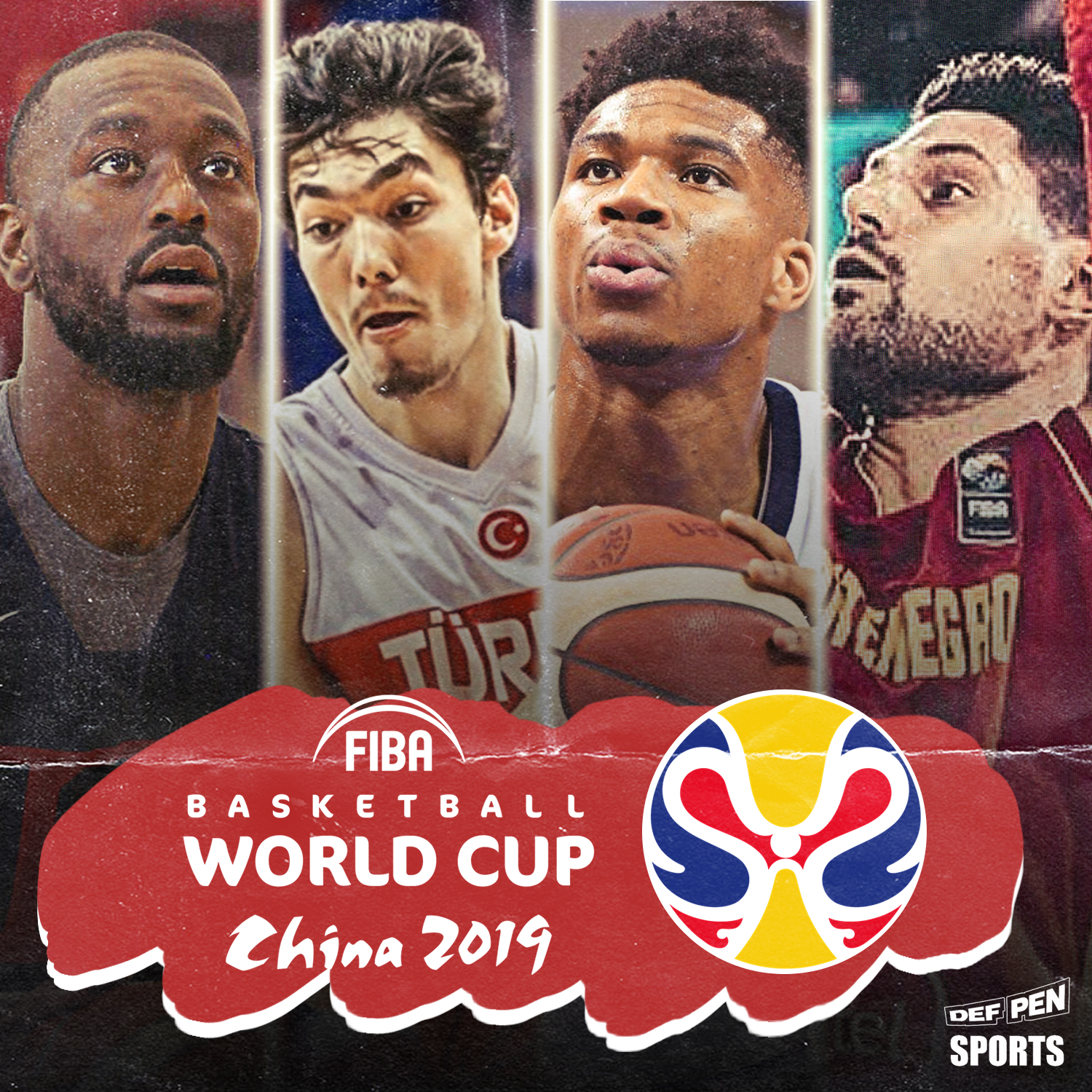 The 2019 World Cup is just hours away now. 32 top national teams are set to determine the best basketball nation in the world. The spectacle starts on August 31st with only two teams staying alive to battle for the title on September 15th.
Every contender will have to go through two group stages. A team should needs to end up at first or second place to advance to the next round in each group stage. The single-elimination tournament starts at the quarterfinals phase. The seven best teams from their respected continents (One from Africa, Asia, and Oceania, two from Americas and Europe) will earn a spot at the 2020 Summer Olympics.
With the format set, let's unveil each team that will battle for the world's gold in China.
*All rosters being updated in accordance with the official FIBA website
GROUP E
CZECH REPUBLIC
Appearance: 1st
Best result: –
Star Player: Tomas Satoransky
It's never OK to celebrate somebody's bad luck, but if we are being completely honest here, John Wall's terrible injury allowed Satoransky to post his best career numbers in the NBA. Which led Satoransky to sign a pretty solid 3-year 30-million deal with the Chicago Bulls. With NBA money being secured, the wing can solely concentrate on putting his nation on his back in China. Yes, Jan Vesely, who always plays incredibly well for the national team, skipped the World Cup due to injury.
Supporting Cast
Vesely's loss is a huge hit for Czechs. He's been absolutely on a tear the last couple Euroleague seasons and now Satoransky won't have an opportunity to catch a break. But the Czech squad is a very cohesive unit formed with vets who have played together God only knows how long. Satoransky's veteran back-ups will be Blake Schilb, Vojtech Hruban, and Jaromir Bohacik. Without Vesely, Ondrej Balvin, who currently plays for Bilbao, will be the sole prominent player from a top domestic European league.
Overview
With Turkey going through generational change (getting younger and stronger in the process) and Japan climbing up the rankings with young and hungry Hachimura and Watanabe, the Czech Republic will need a lot from Satoransky and other proven vets to punch a ticket to the next round. There are simply no guarantees for this squad in China and Team USA presence in the group makes the whole thing even more complicated.
Roster
1- Patrik Auda – C
4 – Tomas Vyoral – G
6 – Pavel Pumprla – F
7 – Vojtech Hruban – F
8 – Tomas Satoransky – G
11 – Blake Schilb – F
12 – Ondrej Balvin – C
13 – Jakub Sirina – G
15 – Martin Peterka – C
17 – Jaromir Bohacik – F
23 – Lukas Palyza – F
31 – Martin Kriz – C
JAPAN
Appearance: 5th
Best result: 11 (1967)
Star Player: Rui Hachimura
"I want to be the face of the Japanese basketball". He still did not play a single minute in the NBA, but Rui Hachimura already talks like a leader of a country that never was so basketball addicted. After a great three-season college career with Gonzaga, the Toyama-born forward became the first-ever Japan-born player selected in NBA Draft. Hachimura showed some sides of his talent playing some amazing games in the World Cup qualifiers and then confirming his skills in the friendly matches this summer. The World Cup as a springboard, the NBA as the goal. The Wizards bet on him during their rebuilding process. "Rui" in Japanese means "fortress", by the way.
Supporting Cast
This is probably the best team Japan has ever had in its history, and not only because of Hachimura. Coach Julio Lamas has a powerful trio in the frontcourt positions with Rui, Memphis Grizzlies' forward Yuta Watanabe, and American-born center Nick Fazekas (top scorer of the World Cup Qualifiers with 27.5 points per game while grabbing 12.5 rebounds per contest). Also pay attention to Makoto Heijima, who has deep experience playing in the competitive Australian league, and Yudai Baba, young talented forward. Both saw action in the last NBA Summer League.
Overview
Without Hachimura we wouldn't have seen Japan in this World Cup, but the "Akatsuki Five" want to shock the world now. With Team USA that probably will grab the first place, Hachimura and friends will battle with two very experienced teams, Turkey and Czech Republic. It won't be easy, but they are eager to fight, and have already made some noise defeating Germany in one of the last exhibitions before the World Cup.
Roster
3 – Seiya Ando – G
6 – Makoto Hiejima – G
7 – Ryusei Shinoyama – G
8 – Rui Hachimura – F
10 – Kosuke Takeuchi – F
12 – Yuta Watanabe – F
13 – Shuto Ando – G
15 – Joji Takeuchi – F
18 – Yudai Baba – F
22 – Nick Fazekas – C
24 – Daiki Tanaka – G
32 – Avi Schafer – C
TURKEY
Appearance: 5th
Best result: Silver (2010)
Star Player: Cedi Osman
After one season of learning from LeBron, Cedi Osman showed all his improvement in the forgettable Cavs' year. He is only 24-years-old, but he already has a World Cup experience (he averaged 2.3 points per game as Turkey finished 8th in 2014) and can basically do everything on a basketball court on both ends. The problem here is that Turkey needs him to be a leader too. Not necessarily with high-scoring performances (Ilyasova and Wilbekin are there for this), but to show the way to his teammates in difficult moments. Will he be able to make this step?
Supporting Cast
Turkey has a good amount of talent in the backcourt in addition to the "Jedi". Scottie Wilbekin is constantly replacing Bobby Dixon in the role of naturalized player of the team. The former Eurocup MVP can be an amazing scorer with his long-range shot and clutchness. Melih Mahmutoglu is a perfect fit with Osman and Wilbekin in the starting five, with strong back-ups Dogus Balbay and 76ers guard Furkan Korkmaz. The main problem is the paint. Enes Kanter (and his brother Kerem) is not in good a relationship (to say the least…) with Turkish politicians, Georgetown's prospect Omer Yurtseven is not on the team, Semih Erden's prime days are gone, so all the weight is on Ersan Ilyasova's shoulders.
Overview
They played very well in this summer's friendly games, but medals are an unlikely end game for them. Czech Republic and Japan are not easy opponents in Team USA's group. And later, it will be Giannis who will be knocking on the door.
Roster
1 – Scott Wilbekin – G
4 – Dogus Balbay – G
5 – James Birsen – F
6 – Cedi Osman – F
8 – Ersan Ilyasova – F
9 – Semih Erden – C
10 – Melih Mahmutoglu – G
11 – Ege Arar – F
19 – Bugrahan Tuncer – G
21 – Sertac Sanli – C
22 – Furkan Korkmaz – G
24 – Yigit Arslan – G
USA
Appearance: 18th
Best result: Gold (1954, 1986, 1994, 2010, 2014)
Star Player: Kemba Walker
First, it was supposed to be James Harden. Second, it was supposed to be Anthony Davis. Third, Damian Lillard should have been up there. You know the drill. Kemba Walker was the only consistent star player that never ruled out the possibility of competing for Team USA this summer. He got his lucrative deal with the Celtics and will have a golden opportunity to bond with his new teammates in more than competitive atmosphere.
Supporting Cast
Gregg Popovich has never said this publicly, but it's obvious that pre-World Cup camp was nothing but a neverending headache or even nightmare when it's all said and done. Kyle Lowry's withdrawal left Team USA with a single player that has ever been selected to an All-NBA Team. You guessed it, it's Kemba Walker. And it's the worst result for Team USA since 1998. The selecting process turned into a war of attrition and survival mode with some ridiculous cases such as De'Aaron Fox and Marvin Bagley's story. Both players made it to final 17 just to pull themselves out later with an official reasoning of preparing for the season with Kings.
With that being mentioned, Popovich's squad is still the deepest at the tournament. Pretty much each of twelve survivors can contribute big time for the red, white and blue. Some of them will have a bigger role though. Kemba Walker and Donovan Mitchell will hurt America's rivals the most with Jaylen Brown, Jayson Tatum, Harrison Barnes, and Khris Middleton being solid secondary options. Myles Turner, who played exceptionally well in exhibitions, will be the man at the five with Brook Lopez as a back-up. Joe Harris is still one of the best shooters in the world, so that helps too.
Overview
No matter how awful this roster looks on paper compared to previous Team USA squads in big international competitions, the US should be rightfully favored to win it all once again. However, the aura of invincibility has clearly gone, and defeat in Australia was just more proof. Americans should feel comfortable in group stages but in single-elimination games, there is no guarantee. Who would've thought that a team with Tim Duncan and Allen Iverson in 2004 and Coach K's team with LeBron James and Dwyane Wade in 2006 would lose? And they both lost.
Roster
4 – Derrick White – G
5 – Donovan Mitchell – G
6 – Joe Harris – G
7 – Marcus Smart – G
8 – Harrison Barnes – F
9 – Jaylen Brown – F
10 – Jayson Tatum – G
11 – Mason Plumlee – C
12 – Myles Turner – C
13 – Brook Lopez – C
14 – Khris Middleton – F
15 – Kemba Walker – G
GROUP F
BRAZIL
Appearance: 18th
Best result: Gold (1959, 1963)
Star Player: Bruno Caboclo
Has the time come for Bruno Caboclo? The Grizzlies forward was a mysterious piece when Masai Ujiri selected him with the 20th draft pick in 2014. Things remain pretty much the same until last January when Memphis gave him a new chance. He had a good impact, showing improved three-point shooting – his main weakness coming to the league. This "old" Brazil needs him to replace the veterans on the sunset boulevard.
Supporting Cast
Brazilian frontcourt has an elite combination of size and experience with the "evergreens" Anderson Varejao and Augusto Lima. It will be curious to see Cristiano Felicio's role in this rotation. The Chicago Bulls center has the athleticism and "freshness" – something that is nowhere to be found with his teammates. Caboclo will split the minutes with another former NBAer, Marquinhos de Sousa (two seasons in New Orleans between 2006 and 2008) in the forward rotation. Their backcourt will include creative Euroleague veteran and former Los Angeles Laker Marcelinho Huertas, two solid ACB players, Rafa Luz and Vitor Benite, and one of the best player to ever wear Brazilian uniform, Leandro Barbosa. He can still score at will.
Overview
Brazil is probably the oldest team of this World Cup, with almost half of its players over the age of 33. Coach Aza Petrovic (Drazen's brother) must be able to mix this part of the team with his "young guns". And he has all the experience to do that. Brazil was always a solid team and this squad is pretty talented. But they never had peak efficiency wearing national team jersey. Can Barbosa and Varejao's generation find the way to a medal at this point of their careers? It would be a good story to tell.
Roster
2 – Yago Mateus – G
5 – Rafa Luz – G
6 – Cristiano Felicio – C
8 – Vitor Benite – G
9 – Marcelinh Huertas – G
10 – Alex Garcia – F
11 – Anderson Varejao – F
14 – Marquinhos Sousa – F
19 – Leandrinho Barbosa – G
23 – Augusto Lima – C
24 – Didi Louzada – G
50 – Bruno Caboclo – F
GREECE
Appearance: 8th
Best result: Silver (2006)
Star Player: Giannis Antetokounmpo
Do we need to tell you? Giannis, of course. The name is enough. Nobody can doubt the fact that the reigning NBA MVP is the best player of this World Cup. He is a force of nature in the best league in the world, so it's easy to imagine how he can impact the competition in China.
Supporting Cast
Giannis' supporting cast is as experienced as you can only imagine. Former Grizzlies point guard Nick Calathes and Euroleague champion Kostas Sloukas (that will be in China even with some physical problems), are probably the best true point guards in the Euroleague. The former Rockets and Nuggets' forward Kostas Papanikolaou has size, defensive skills, and IQ to be the perfect Giannis back up together with Thanasis. The unbreakable Georgios Printezis will be paired with super vet Ioannis Bourosis and super young Georgios Papagiannis who will try to resurrect his career after a poor NBA showing.
Overview
Greece is the only team (among the best) that received no declines from its top players. Antetokounmpo talked about the gold medal and how USA's withdraws opened many teams' minds and made them thought of that dream. Giannis' Greece could in some ways emulate Nowitzki's Germany in 2002. Dirk was 24-years-old back then, led his team to bronze medals, and won MVP of the tournament. The USA finished 6th, by the way. Giannis is a 25-year-old NBA MVP with a way better supporting cast in a World Cup with one of the worst recent versions of Team USA. An intriguing scenario, isn't it?
Roster
5 – Giannoulis Larentzakis – G
8 – Nick Calathes – G
9 – Ioannis Bourousis – C
10 – Kostas Sloukas – G
14 – Georgios Papagiannis – C
15 – Georgios Printezis – F
16 – Kostas Papanikolau – F
17 – Evangelos Mantzaris – G
19 – Ioannis Papapetrou – F
21 – Panagiotis Vasilopoulos – F
34 – Giannis Antetokounmpo – F
43 – Thanasis Antetokounmpo – F
MONTENEGRO
Appearance: 1st
Best result: –
Star Player: Nikola Vucevic
Vucevic is another player that brought home a huge paycheck this summer. Nik stays in Orlando with hopes of getting multiple deep playoff runs in the wide-open East. Getting deep run in China may be even more difficult task for Vuc. He's the biggest Montenegrian star by far and can rely on a very limited group of truly solid European pros.
Supporting Cast
Bojan Dubljevic is definitely one of them. The Montenegrian center has been on NBA radar for years but prefers to stay relevant with Valencia, one of the top Spanish teams that constantly plays in Euroleague. Marko Todorovic is another prominent big from the Spanish league. The guy who can be one of the brightest young stars at the tournament is Dino Radoncic. Unlike Luka Doncic, Radoncic wasn't able to catapult from Real Madrid's youth system to the main team. It's a perfect opportunity for the 20-years-old to change his luck. When it comes to vet guards with good shooting touch, Montenegro has solid performers in Derek Needham and Nikola Ivanovic.
Overview
The key matchup for Montenegrins will definitely be the game against Brazil. They could and most likely would go past New Zealand. There is also a big doubt that they will have a solid chance against Giannis and the company. Top 16 will be a good result for the small nation without any experience playing at the biggest international stage.
Roster
4 – Nikola Vucevic – C
5 – Derek Needham – G
6 – Suad Sehovic – F
7 – Nemanja Radovic – F
8 – Sead Sehovic – F
10 – Aleksa Popovic – F
11 – Marko Todorovic – C
14 – Bojan Dubljevic – F
20 – Nikola Ivanovic – G
23 – Dino Radoncic – G
30 – Petar Popovic – G
51 – Milko Bjelica – F
NEW ZEALAND
Appearance: 6th
Best result: 4 (2002)
Star Player: Tai Webster
The whole nation thought this was the right time for Steven Adams to shine as the Tall Blacks leader. It won't be the case, and here comes Tai Webster. Tai shined as one of the best point guards in the Eurocup in only his second pro season. He has great court vision and a good size for a point guard. The lack of consistent three-point shooting is his main weakness. Nevertheless, Nebraska's product is only 24-years-old. Their Euroleague future is in his hands.
Supporting Cast
New Zealand can count on a bunch of players with good international experience, starting with the older of the Webster brothers, Corey, who had a short stint in the 2015 NBA preseason with the Pelicans. Tom Abercrombie is an all-around forward that had aroused NBA interest a few years ago. Isaac Fotu, a power forward with not a modest size but incredible agility and intensity and an improving three points shot, is another solid Euro vet.
Overview
New Zealand was the biggest surprise of 2002 World Cup when the Tall Blacks finished fourth while losing the bronze medal game to Nowitzki's Germany. Paul Henare was on that team and now he is the New Zealand coach on a mission: trying to advance to the second phase. Seems impossible without Adams? They advanced to the eight finals battling head to head with a powerful Lithuania for a place in the quarterfinals. And the core of that team is still here.
Roster
0 – Tai Webster – G
3 – Finn Delany – F
5 – Shea Ili – G
6 – Jarrod Kenny – G
9 – Corey Webster – G
10 – Tom Abercrombie – F
14 – Rob Loe – C
16 – Tohi Smith-Milner – F
20 – Jordan Ngatai – F
25 – Ethan Rusbatch – G
35 – Alex Pledger – C
42 – Isaac Fotu – F