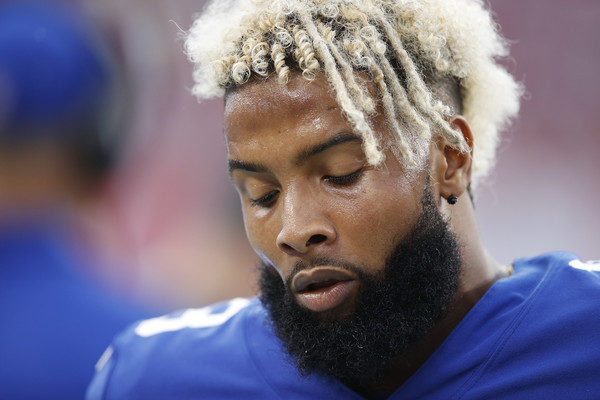 Typical of most NFL seasons, a majority of the league has settled somewhere around mediocre through five weeks. While you'll find one (possibly unexpected) plot twist about a third of the way through these NFL Power Rankings, you'll otherwise find a league that easy to identify the top five and bottom five. The middle 22 is largely made up of paper-rock-scissors teams. Which is to say: the teams a game on either side of .500 could offer problematic matchups against one team while being completely outmatched by another one.
2018 NFL Power Rankings: Week 6; Tier 1: The Undefeated
1 Los Angeles Rams (5-0)
Heading into the year, most thought that if the Rams season was going to go south, it would be because their locker room would self-destruct. At least so far, they're good on that front. On the field, whatever the opponent can do, they can do at least as good (probably better).
2 Kansas City Chiefs (5-0)
The offense (Patrick Mahomes, specifically) did make their anticipated fall back down to earth. To be sure though, if the rest of the NFL is on earth, the Chiefs offense is still on the outer edges of the atmosphere boarding on being in outer space. It's still really encouraging that they managed to pull off a win despite not having an otherworldly offense.
Tier 2: The Barely Defeated
3 Carolina Panthers (3-1)
It's a bit harder to evaluate teams with an early bye week because playing one less game out of an otherwise five-game sample size is fairly significant. Though the bye keeps them out of first place in the NFC South, we still think the Panthers present a unique matchup that puts opposing teams in a precarious situation. It's close, but we're giving them the edge over the Saints (barely).
#Panthers kickers have been outstanding this season

K Graham Gano – 91.0 PFF grade (1st overall)
P Michael Palardy – 83.4 (1st overall)

— PFF CAR Panthers (@PFF_Panthers) October 11, 2018
4 New Orleans Saints (4-1)
In hindsight, the criticism of the Saints after the first week or two of the season feels somewhere between severely premature and outright weird. Although it wasn't entirely without merit at the time, this squad has really rounded out nicely and there are not nearly the questions surrounding them (in particular the defense) that there was early on.
5 New England Patriots (3-2)
The Patriots would be prone to be moved down at least five spots if there appeared to be a legit contender in the AFC East. There's not. As a result, there has to be additional value put on a cakewalk to the playoffs. On top of that, this is a team with a track record of peaking once they get there.
Tier 3: The Barely Defeated, for Now
6 Cincinnati Bengals (4-1)
By necessity, teams have to be valued based on the teams they play. The Bengals have been really impressive thus far. But they don't have a win that jumps off the page, do they? Beating the Falcons seemed more impressive in the moment than it does in hindsight, no? Cincy plays a desperate Steelers team and the Chiefs after that. Those two games deserve to be watched closely as it pertains to where the Bengals belong in the NFL hierarchy.
7 Los Angeles Chargers (3-2)
The Chargers fall into the same category as the team above. How can a team properly be evaluated when all we have to go on is wins against the weakest teams and loses to the two best? However, the Chargers have a golden opportunity to hoard some wins over the next stretch in their schedule: at Cleveland; vs Tennessee; at Seattle; at Oakland; vs Denver; vs Arizona; at Pittsburgh. Anything less than ten wins for the Chargers would be a major disappointment, at least would be projecting from this point forward.
8 Chicago Bears (3-1)
The six-touchdown performance by Mitch Trubisky can't be treated as anything other than an outlier within an otherwise below-average career. There's still plenty of time and room for improvement, but Trubisky's performance as a whole feels like a cap on Chicago's potential.
Mitch Trubisky is the only 1st-round QB from the 2017 NFL draft who has played 16 career games, but Patrick Mahomes and Deshaun Watson have proved themselves to be far better passers in far smaller sample sizes#Bears #Chiefs #Texans pic.twitter.com/sDKBNw9zl5

— Kevin Boilard (@247KevinBoilard) October 11, 2018
Tier 4: The Gap
We're symbolically adding a Tier 4 with no teams in it because there's a clear delineation in talent and potential between the teams listed above this mark versus the rest of the field. Does it make total sense to do it this way? Maybe not. But the NFL sometimes doesn't make sense, either.
Tier 5: The Vast In-Between
9 Miami Dolphins (3-2)
At one point in time, the Dolphins had a stronghold on an AFC wild-card spot. (Even when they were leading the AFC East, we never really bought into them as a division title contender.) But that is slipping away quickly. Miami needs to right the ship. If not, expect them to be significantly lower in next week's NFL Power Rankings.
10 Washington Football Team (2-2)
There might not be another team doing less with such a big opportunity. At their best, Washington looks like a division winner. At their worst, they could lose to any team in the league. If it keeps up that way, this team will look back and realize they let an NFC East title that was ripe for the taking slip right through their hands.
11 Tennessee Titans (3-2)
It might not be all that surprising that the Titans are 3-2. But in the context of how their winning, it becomes more of a surprise. We're still skeptical that being able to win with an offense that struggles to score more than 17 points is sustainable.
12 Jacksonville Jaguars (3-2)
Jacksonville might be a win better if they had health on their side. But the same could be said for every NFL team at some point or another. Can't give one team a pass for a hardship pretty much all teams deal with. This team is still an elite defense with a completely average offense.
13 Baltimore Ravens (3-2)
Despite being a game back, the Ravens have emerged as somewhat of a trendy pick to win the AFC North. While that scenario is totally plausible, we think that would say more about Cincinnati than it would Baltimore.
14 Philadelphia Eagles (2-3)
A lot of folks (this writer included) assumed the Eagles would struggle early on given the number of players working their way back to full health. And that possibility still is out there. However, perhaps there wasn't enough thought put into the possibility that while others get healthy, other will get injured. Jay Ajayi getting knocked out for the season is a huge blow for the reigning champs. Even though it's still relatively early, time is running out for this team to put it together.
Going axe throwing before the Eagles game tonight. Axe throwing should be illegal after all Eagles games within Philadelphia city limits.

— shamus (@shamus_clancy) October 11, 2018
15 Green Bay Packers (2-2-1)
In a bit of an unexpected plot twist, Aaron Rodgers is starting to look more mobile. Meaning his injured knee is getting better. However, he's missing throws that he otherwise would make. That, or there's something else that throwing the Packers offense off. Whatever the reason, the offense and defense have settled into league average territory here. That's a bit of an upgrade for the defense, but a huge downgrade for the offense.
16 Minnesota Vikings (2-2-1)
At some point, unexpected variance becomes the expectation, if that makes sense. That appears to be who the Vikings are: a team that can reach a very high ceiling but can devolve into a really low floor. And they can go from one to the other on a game-to-game basis. Not knowing what to expect to that degree is not a good thing. As long as such is the case, a rankings smack in the middle of the field feels right.
17 Cleveland Browns (2-2-1)
If there's one fanbase that deserves to celebrate being ranked inside the top-20, it's the Browns. While the NFL doesn't hand out participation trophies, everything is moving in the right direction for Cleveland.
18 Dallas Cowboys (2-3)
Jerry Jones has a way of deflecting media from some big issues in Dallas. Whether the owner is consciously jumping on a grenade or selfishly making everything about him, the fact of the matter is that the Cowboys' decision as far as head coach (along with surrounding staff) and quarterback grows bigger and cloudier with every passing week.
19 Detroit Lions (2-3)
The NFC North is up for grabs in a way few predicted. It's not out of the question that the Lions could grab the division. But that doesn't feel like a safe bet, or even a smart one. Aside from maybe the kicking game, Detroit might not have a single unit that would rank as the best in the NFC North. That's enough to make one super hesitant to pick this team to do much.
20 Denver Broncos (2-3)
Case Keenum is a fine, totally deserving starting quarterback. Not everyone gets to have a Tom Brady. But having Keenum throw around 35 passes or more – as he's done in every game this season – seems less than ideal. Even for a team that has often played from behind.
21 Pittsburgh Steelers (2-2-1)
Based on preseason expectations, the Steelers are a pretty big disappointment. If they fail to play with the desperation and urgency their situation would appear to call for, it might be time to throw in the towel on the 2018 Pittsburgh Steelers.
22 Houston Texans (2-3)
Houston is finally looking like they could approach the level of play many thought possible after seeing Dashaun Watson light the football world on fire last season and the recovery of JJ Watt from injury, paired with the rest of their skill position players. Watt is – and has been – living proof that no matter how dominant a player is, impact on a game is sort of limited for every other position when compared to that of quarterback. While Watson is very skilled, his impact might be capped by the offensive line.
JJ Watt has led the NFL in sacks in two seasons. This season, his brother TJ is battling him for the top spot. https://t.co/dWLokXkGG1 pic.twitter.com/mK7fxqh7Pv

— MyCommunityNow (@MyCommunityNOW) October 11, 2018
23 Seattle Seahawks (2-3)
The Seahawks showed a little friskiness over the last few weeks. But it still looks like a struggle in Seattle. Nothing comes easy for them. Don't expect too many more wins, either. Even though a game against Oakland could mean they're at .500 after this week.
Tier 6: The Mostly Defeated
24 Atlanta Falcons (1-4)
Most years there's a team that's markedly better than their record. But they just can't seem to pull out W's in close games. This year, that team is the Falcons.
25 Tampa Bay Buccaneers (2-2)
Tampa has had quite the fall from grace after the "FitzMagic" of the first two weeks. We'll see if Jameis Winston can give this team a bump like Fitzpatrick did to start the season. We're not betting on it, but in case that proves true, we call dibs on "WinstoHocuspocus." That's better than "JameiSorcery," right? Thought so.
26 Indianapolis Colts (1-4)
Perhaps we can stop worrying about Andrew Luck. But that only goes so far when the rest of the roster is so lacking in talent and depth. Luck is enough to keep them competitive in most games, but the surrounding cast isn't enough to consistently seal the deal. They have a good chance to get back in the win column this week though.
Dearest mother —
I have received your care package of peppered skunk tails and dried mouse ankles. The unit reached New York only to be informed the Aircraft men want to battle in New Jersey. Frustrating. Their indecisiveness may be due what I am told is severe gangrene.
— Andrew

— Capt. Andrew Luck (@CaptAndrewLuck) October 10, 2018
27 New York Jets (2-3)
After a nice win over Denver, it feels more likely that this team will struggle this week against the Colts than keep heading upward in a linear way. That's just what teams led by rookie QBs do. Still, in a more big-picture way, the Jets are on the right track.
Tier 7: The Outright Down and Out
28 Buffalo Bills (2-3)
Despite a couple really surprising wins, the Bills 2-3 record says more about the NFL field is more level than some want to admit or realize that it does about Buffalo as a team. Compared to the rest of the league, this is still a really bad team.
29 New York Giants (1-4)
Odell Beckham Jr. deserves much of the criticism he's getting. Maybe not all of it, but most. There are just things, as a teammate, you don't say out loud. That doesn't make what he said any less true, though. (And there was a good amount of truth in it.)
30 Oakland Raiders (1-4)
The Raiders play the Seahawks this week. That makes it some sort of "Coaches Who Used to Be Likeable But Aren't Anymore" Bowl, doesn't it? That might mean we have to like the winner again, though.
31 San Francisco 49ers (1-4)
CJ Beathard – or lack of Jimmy Garoppolo – will get the bulk of the blame for the Niners season going down the drain. But Garoppolo merely offered cover for the many holes this team still has all over the depth chart. He wasn't a cure-all. The problem(s) at quarterback is but one entry on a long list of areas that need improvement.
32 Arizona Cardinals (1-4)
The Cardinals got a win to get a mark in the right column, albeit against the team ranked directly above. They're still holding down the bottom spot, though, because this team has clearly shown the least through five weeks.