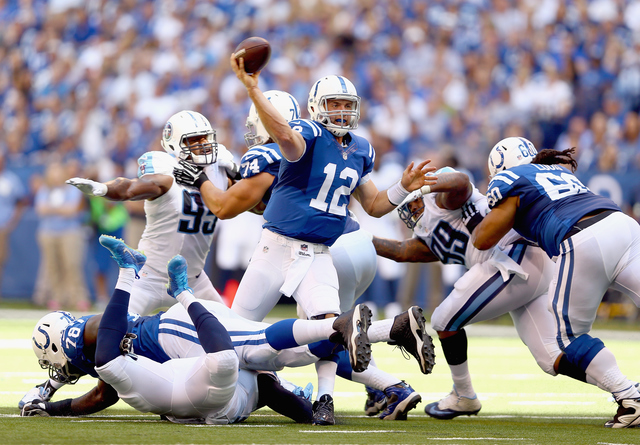 With the end of the season almost upon us, it's time to really try and use the NFL Power Rankings to separate the contenders and bubble teams from the rest of the field. As the NFL widdles the league down to a champion, this space will, too. There were a few big moves from last week, but otherwise, the cream has risen to the top.
2018 NFL Power Rankings: Week 16; Tier 1: Smiling
1 New Orleans Saints (12-2; +167 point differential)
Ryan: The Saints top ranking isn't exactly on solid ground. But what's happened around them to the other candidates for the number one spot is what cements New Orleans' place here. There's now some distance between the present and the Saints' surprising no-show against the Cowboys. The Rams – New Orleans' primary opponent for the NFC crown – have really struggled lately. Plus Kansas City lost as well. Thus, this is your number one team. It would be insulting to say it's by default, they are 11-2, but it's something close to default. Because there isn't really a team that's head-and-shoulders above the field this year.
Former New Orleans Saints player and ALS advocate Steve Gleason is the first player in NFL history to be awarded the Congressional Gold Medal. https://t.co/5pe05KfCrr

— Twitter Moments (@TwitterMoments) December 20, 2018
2 Kansas City Chiefs (11-3; +119)
Richard: Kansas City may have learned that the biggest challenge to their championship hopes maybe a team in their own division. The Chiefs lost to the Chargers 29-28 Thursday night. They lead by 14 at two different points of the game but were unable to take home the win. It may just prove to be a tough loss to a good Philip Rivers lead team, but Andy Reid's failures in the past have some worrying about the Chiefs chances against the better competition that they will face in the playoffs. The Chiefs, who still haven't locked up the number one seed in the AFC, will face a tough Seahawks team looking to lock up their playoff spot this Sunday.
3 Los Angeles Chargers (11-3; +97)
Richard: The Chargers proved themselves to be amongst the elite Thursday night after beating the Chiefs 29-28. They were down their star running back and still kept pace with the powerful Kansas City offense. With the Rams losing to the now 7-7 Eagles and the Saints edging one out against the Panthers with a hurt Cam Newton, the Chargers are making their case as the best team in the league. The Chargers clinched a spot in the playoffs but are still in the race for the AFC number one seed. The Chargers face a Ravens team who needs to win to keep the last wildcard spot this week.
The Los Angeles Chargers are in the conversation with the Rams, Chiefs and Saints for not only the best team in the NFL but the most exciting team in the NFL. The question now is will L.A. come out and support them?

— Arash Markazi (@ArashMarkazi) December 14, 2018
4 Los Angeles Rams (11-3; +105)
Ben: Rams fans almost suffered their worst nightmare Sunday night: A season-ending Todd Gurley injury. Of course, the end result for the game vs Philadelphia wasn't great, but at least it looks like Gurley won't miss significant time. As for the game, it wasn't shocking to see Foles light-up the mediocre Rams' secondary. The bigger problem seems to be Jared Goff. A pick, a fumble, and no touchdowns low-light Goff's second straight forgettable performance. Perhaps, a little losing streak can be just thing to re-focus to Rams before their playoff run. With winnable games at Arizona and a home finale vs San Francisco, the Rams have an opportunity to "get right" and get healthy before the playoffs and maybe get back to the high-flying chemistry of a few weeks ago.
Tier 2: Smirking
5 Chicago Bears (10-4; +119)
Ben: Sunday may have been one of the best days of recent Chicago Bear history. Not only did the Bears clinch their first NFC North crown since 2010, but they did it by beating hated rival Green Bay. The win over Green Bay sealed Chicago's playoff birth but eliminated Green Bay from any playoff chance. Trubisky (20-28, 235 Yds, 2 TDs) was decisively more efficient than Aaron Rodgers as well, who had zero TDs and a pick. The icing on the cake for the Bears fantastic Sunday was Dallas's 23-0 shutout loss, putting the Bears in even better position to lock up the three seed in the NFC. With the defense ever-intimidating and Trubisky clicking at the right time, the Bears look the part as one of the real contenders in the NFC.
6 Houston Texans (10-4; +71)
Ryan: A win against the lowly Jets helped get Houston back in the win column after a loss to the Colts ended their nine-game winning streak. The Texans still have a bit of a lead on the rest of the AFC South, but probably have their eyes on a first-round bye. It helps their cause that one of the Chiefs or Chargers will have to settle for a wild card, even if they both win out and finish with a better record than the Texans. Houston is very much in control of their own destiny and could be playing at home in the playoffs at least up until the AFC Championship game, should they make it that far. And if the one-seed loses, the championship game could be in Houston. Their last two games are very winnable (@ Philadelphia and home for Jacksonville). But Philly will be a tough out as they're in a playoff fight in their own right.
7 Pittsburgh Steelers (8-5-1; +68)
Ryan: The Week 1 tie with Cleveland was once looked at as a black mark on the Steelers' season. But it sure is coming in handy now as it's the reason Pittsburgh remains in first over Baltimore. But the Steelers don't have time to worry about Baltimore nipping at their division-leading heel. Pittsburgh must focus on the Saints this week or the division lead will be the least of their problems. A loss would put the Steelers squarely in the playoff bubble along with Indianapolis and Tennessee, among others.
8 New England Patriots (9-5; +64)
Ryan: Winning out shouldn't be a problem for New England as they have the Bills and Jets left on the schedule. However, for the first time in a long while, the Patriots are looking at the possibility of playing on the opening weekend of the playoffs. You can bet that Pats fans will be keeping one eye on the Texans since Houston is the most vulnerable as far as a team that could give up that spot that gets a first-round bye.
9 Seattle Seahawks (8-6; +71)
Ben: Seattle could've locked up a playoff spot with a win in San Francisco on Sunday. Then the rain hit. During heavy rains and slick conditions, the Seahawks were unable to come back to beat the Niners, despite forcing overtime. Wilson was solid, bringing the Hawks back to at least make it a game, but couldn't get a score in OT. Special teams also played a factor, allowing a 97-yard kick return and missing an extra point. Despite the loss, Seattle is still sitting in the five seed in the NFC. Barring a catastrophic collapse in the final two games, Seattle should still be a playoff team come January, but then again crazier things have happened.
10 Indianapolis Colts (8-6; +72)
Ryan: Indianapolis has been one of the bigger surprises this season. Of course, a healthy Andrew Luck makes a ton of difference. But his performance has only been made better by a stellar offensive line. The Colts smartly allocated a bunch of resources into building a formidable line to protect Luck. On the other side of the ball, Indy has a sneaky good defense. Even if they make the playoffs they might not be a true title contender. But they're on their way. This team has come light years from this point last season. One more jump next season and they could be getting some Super Bowl buzz.
11 Dallas Cowboys (8-6; +7)
Ryan: The Cowboys are just one of those teams that when you get close to writing them off as a contender, they do just enough to rope you back in and start to take them seriously; take them seriously and they put in one of the worst performances of the season (which they did last week). Likewise, their record suggests they be taken seriously. Their point differential … not so much. Dallas is a confusing team that has been really high and really low this year. That's not exactly a ringing endorsement for their chances heading into the postseason, but they've come further already than most thought they would.
Tier 3: Trying to Manage a Grin
12 Baltimore Ravens (8-6; +88)
Ryan: With Lamar Jackson at the helm, the Ravens have looked pretty good, albeit in a different way than most NFL offenses these days. But now comes the tough part. Especially with playoff spots on the line, opponents will be more and more desperate to come up with ways to stop the new Baltimore quarterback.  With more film out there, the continued success of Jackson (or possible lack of) will be a fascinating plot to follow from here on out.
Lamar Jackson became the Ravens' starter in Week 11. Since Week 11, he's fifth in the NFL in rushing. Pretty remarkable for a quarterback to be a Top 5 rusher.

— Michael David Smith (@MichaelDavSmith) December 20, 2018
13 Tennessee Titans (8-6; +14)
Ryan: Record-wise, the Titans are in a position to make a run at the playoffs. Realistically though, it seems like they're the top candidate to be the best team left out. They've gone about the season trying to win in a bit of a throwback way, which wasn't the expectation when Marcus Mariota came into the league, but Tennessee has had some success in doing it that way (with Mariota or Blaine Gabbert). However, a rejuvenated Ravens team and a surprise Colts squad might push the Titans out of the postseason for 2018.
14 Philadelphia Eagles (7-7; -7)
Ryan: As much as it seems like the Eagles' season has been in jeopardy all year, they find ways to do just enough to stay alive. Maybe Nick Foles has another magical run in him. Or maybe this season just wasn't meant to be. One has to wonder though: is there any outcome this season that would create a quarterback controversy in Philly going forward?
15 Minnesota Vikings (7-6-1; +15)
Ben: What a difference a week can make, a short week for that matter. After firing Offensive Coordinator John DeFilippo Tuesday, the Vikings got back to basics with a casual 41-point performance over the contending Dolphins. While Kirk Cousins looked considerably more comfortable than he had all season, the real head-turner was the performance by the Minnesota backfield. Dalvin Cook put up 136 yards rushing on 19 carries with two touchdowns. Latavius Murray was solid as well with 68 yards and a touchdown. The Vikings offense seemed to regain its moxie as a whole, putting them back in legit playoff contention. They currently hold the six seed in the NFC, meaning if the Vikes can take care of business in their final two games (@DET, vs CHI) they should at least have a shot at the NFC title.
16 Miami Dolphins (7-7; -79)
Ryan: Remarkably, the Dolphins have been outscored by 79 points on the season and are still in the playoff chase. It's even crazier when you consider they've done it with pretty bad quarterback play. With the Jags and Bills still on the slate, Miami has a really good chance to finish 9-7. They'd still need a little help, but that could mean the postseason. Playing into the postseason would be a huge success for this franchise, though doesn't really move the needle much as far as their long-term forecast is concerned.
Tier 4: Super Serious Face
17 Carolina Panthers (6-8; -11)
Ryan: The Panthers have been in a free fall over the past handful-plus of weeks. Now, with Cam Newton officially being ruled out for the rest of the season, you have to wonder what – if anything – they have to play for. They're still technically alive for a wild-card spot, but let's be honest: that isn't happening. Now it's worth wondering if sitting Newton was just the start of this team protecting their players from getting hurt in the last two meaningless games and doing everything they can to make sure their other stars stay healthy until the start of next season.
18 Cleveland Browns (6-7-1; -39)
Ryan: There are two weeks left in the season, and the Browns are still alive for a playoff spot. Usually, they're already studying up on who to take with the top pick in the upcoming NFL Draft. Not this year. It looks like the Browns have a lot of nice pieces in place to become a really good football team next season. While this year went from a huge surprise to mild disappointment (assuming they miss the playoffs), it still has to be a satisfying feeling for Browns fans to know they have a semblance of a real life NFL team going forward. That hasn't been the case in a while.
19 Denver Broncos (6-8; +7)
Richard: The Broncos were 6-6 and had the 49ers, Browns, and Raiders back to back before facing a Chiefs team that looked like they would be resting their starters for the playoffs. It seemed that they were going to have the easy path to a wildcard after starting the season 3-6. Then football was played. After dropping a game to the 49ers, Denver let the Browns come into mile-high and end their season. The Broncos went from looking like a team that was getting hot at the right time, playing like their lives were on the line and any other cliche you can use to proving that they were who we thought they were. An average team with a bad quarterback and a head coach who will probably get fired at seasons end.
20 Cincinnati Bengals (6-8; -76)
Ryan: The wheels came off for the Bengals the second A.J. Green got hurt. If not before then. While there's something to be said for strength in numbers, it still takes a certain amount of star power to win at a professional and consistent level. Cincinnati just doesn't have the top-end talent. Or at least enough of it to contend for an AFC North title. They aren't all that far away, but this just might be one of the most important offseasons in franchise history. A possible change at head coach and at quarterback highlight the dozens of questions the organizations must ask themselves if they haven't asked already.
What every Cincinnati Bengals fan has been asking Mike Brown pic.twitter.com/SvEy9i5ey1

— Zac Gordon (@Gordon25Zac) December 17, 2018
21 Washington Redskins (7-7; -45)
Ryan: Any chance of making the playoffs left when Alex Smith exited with a gruesome leg injury. Washington now needs to focus on getting better in the offseason. But that may be harder than it seems. In the past, this is a team whose management has tried to win the offseason over and over again. That should make fans nervous. Handing out huge deals in free agency is risky and it's backfired on them before. However, they should be looking to add through the draft and add free agents that bring value, not name recognition.
Tier 5: Frowning
22 Green Bay Packers (5-7-1; +1)
Ben: The Packers were eliminated from playoff contention on Sunday in all too familiar fashion, a subpar offensive performance with a little-too-late comeback. The frustrations are all over the field. Whether it's the missed passes/catches or the increasing pile of injuries (Aaron Jones left the game in the first quarter with a knee injury), the Packers have no shortage of issues. While it sounds like A-Rod is going to play the last two games, the final two games of the season are just a precursor to an offseason dedicated to finding a new coach. Green Bay's ever-important next head man will be responsible for turning around the sinking ship and trying to get Aaron back to the Super Bowl. Misfire and the Packer faithful may not be so patient.
23 Atlanta Falcons (5-9; -25)
Ryan: Every offseason, there's plenty of teams that have to ask tough questions regarding the future of their team. Roster turnover happens on all teams. But not all teams face a situation like Atlanta, where production-versus-cost has to come into play with quarterback Matt Ryan. That's not to say Ryan will be quarterbacking elsewhere any time soon. But he played at an MVP-level, got a huge paycheck, then has devolved into relative mediocrity. Atlanta never would have thought it going into the season, but this is a team closer to needing a complete teardown than it is a piece or two away from getting back to the Super Bowl.
24 Buffalo Bills (5-9; -118)
Ryan: Josh Allen, running back … who knew? The rookie quarterback still has plenty to work on (passing accuracy, specifically), but his raw athletic ability has been a real eye-opener. This team will have plenty of time to wait for Allen's game to round into place as they're more than just a year away from being a complete football team. Another high draft pick won't hurt, though.
25 New York Giants (5-9; -41)
Ryan: NFL fans and pundits will retroactively be asking if the Giants made the right decision drafted Saquon Barkley for years to come. As of right now, it looks like it was the right move. However, the incoming draft class is as down regarding prospective QBs as arguably any draft in the modern era. So it might not be a great year for New York to grab their next franchise quarterback. While they have Barkley and Odell Beckham Jr. on board, this is a team that's primarily made up of veteran players expecting to win now. But Giants management should be more concerned about building a winner down the road. In that sense, it's kind of an uneven roster.
26 Tampa Bay Buccaneers (5-9; -59)
Ryan: Every season there's at least one team that peaks too early, too quickly. The Buccaneers are the essence of that. After the hot start to the season, staring another top-ten draft pick square in the eyes has to be a huge disappointment.
27 Detroit Lions (5-9; -49)
Ben: The positive for the Lions is that Matthew Stafford and Kenny Golladay's chemistry is going to be REALLY good by the end of the season. Golladay's 146 receiving yards were good for 70% of the team's total receiving yards. The negative for the Lions is the rest of the offense. The Lions only managed 13 points, and only 105 total rushing yards. The inefficiency on offense is a glaring problem for Detroit, who's main receiving core from Week 1 is either gone or hurt. The defense seems to be clicking and Stafford is, if nothing else, efficient. However, the Lions are clearly needing an offseason to re-set, get healthy and revamp the offense.
Tier 6: Sad-Mad
28 New York Jets (4-10; -72)
Ryan: Sam Darnold has had a roller coaster of a season. But he's shown enough that New York has to be encouraged going forward. Getting the quarterback right is a huge step in the right direction. The Jets have a serviceable defense for the time being. But the biggest concern here is that this team might have the worst set of playmakers at offensive skill positions in the entire NFL.
29 Jacksonville Jaguars (4-10; -64)
Ryan: The 6-0 win over the Colts a few weeks ago continues to look more and more confusing in hindsight. Either way, Jacksonville's season is a lost cause. But things won't get any easier for the Jags, as they face some really tough questions at virtually every position across the roster.
30 San Francisco 49ers (4-10; -72)
Ben: Has Nick Mullens been impressive enough for other teams to take notice? His 20-29, 275 yards, 1 TD, and no pick were impressive by themselves. However, take into account this was against a team trying to clinch a playoff birth, Mullens may have some teams at least inquiring about his availability. If nothing else, San Fran can feel confident in their backup when Garoppolo hopefully returns. The best part of San Francisco's win, other than Richie James's 97-yard kick return, was the overwhelming support for Richard Sherman after beating his former team. Sherman's presence has clearly made an impact on this team and may be a reason why this 49ers team has not given up on this season yet. Also, George Kittle's post-game WWE-centric presser was easily one of the best NFL sound bytes of the year.
George Kittle loves him some WWE ? pic.twitter.com/fjz9DA2Ycl

— NFL on ESPN (@ESPNNFL) December 17, 2018
31 Oakland Raiders (3-11; -158)
Richard: The Raiders celebrated their win against the Steelers like they knew it was the last win of the season. It probably was and it definitely should be. Oakland lost to the Bengals 30-16 Sunday. Let the 49ers be the bad team that plays itself out of a top-three pick in the draft. The Raiders need to do as much as it takes to keep losing games. In a move that shows that Oakland is onboard with that plan, they signed quarterback Nathan Peterman this week. Maybe John Gruden does know what he's doing. Also, Khalil Mack has more sacks by himself than the whole Raiders team combined so maybe not.
Standing during the anthem is Nathan Peterman's sole Madden attribute

— Reese Waters (@reesewaters) December 19, 2018
32 Arizona Cardinals (3-11; -175)
Ben: Arizona really needs this season to end. Their 40-14 loss at the hands of the struggling Falcons was hard to stomach, even for a team that's trying to grow. Josh Rosen was a putrid 13-22 with 132 yards and 2 picks and even gave way to backup Mike Glennon finishing the game. Rosen may need some room to grow, but this team also did fire its O-coordinator midseason. Perhaps, a full offseason with a new O-coordinator will help Rosen's progress. The Cardinals have some decisions to make regarding personnel, both coaching, and player. What's the future of Larry Fitzgerald? Will David Johnson bounce back? Is Josh Rosen the long-term solution? Where to start with the defense? An offseason of questions faces the Cardinals, but that may be more enjoyable than what's happening on the field.