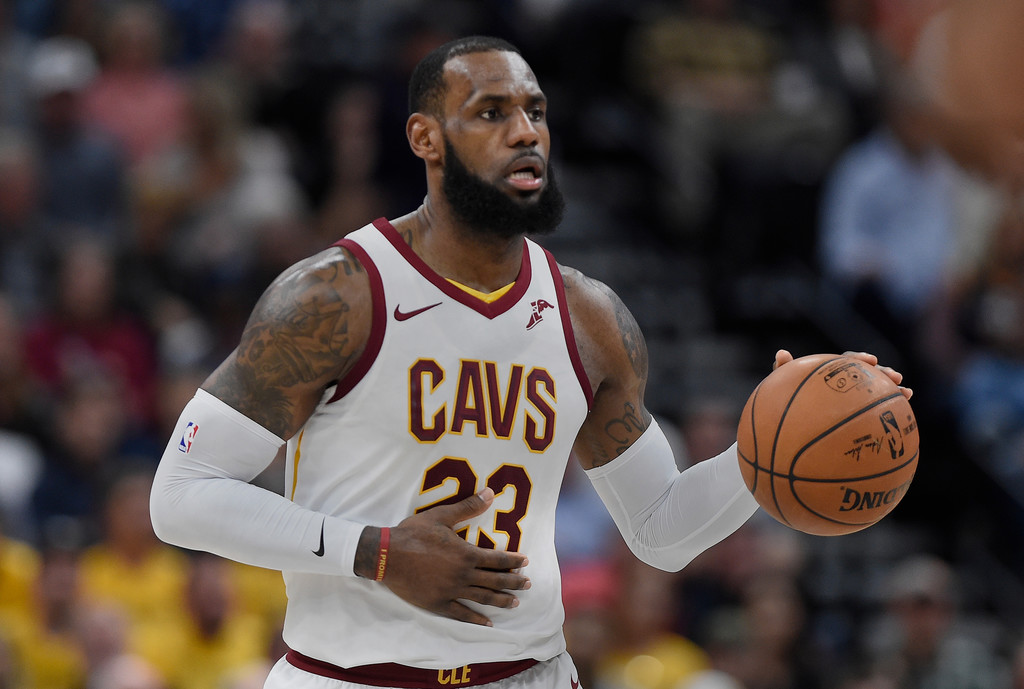 Many were shocked to see Milwaukee Bucks young stud Giannis Antetokounmpo lead the NBA All-Star game voting after the first returns but order was quickly restored when Cleveland Cavaliers star LeBron James took over the overall vote lead after the second returns. He'll hold on to his lead and take the crown as the first-ever NBA All-Star game team captain under the new format rules. Stephen Curry was the votes leader for the Western Conference when the second returns were released and he held on to be named a captain.
The starters from the Western Conference and Eastern Conference were officially announced on a TNT broadcast. The starters were selected based off a combination of a fan vote (50 percent), media vote (25 percent) and players vote (25 percent).
2018 NBA All-Star Game
Eastern Conference
Starters
G – Kyrie Irving
G – DeMar DeRozan
F – LeBron James (captain)
F – Giannis Antetokounmpo
F – Joel Embiid
Reserves
G – Victor Oladipo
G – Bradley Beal
G – John Wall
G – Kyle Lowry
F – Kristaps Porzingis
F – Al Horford
F – Kevin Love
Western Conference
G – Stephen Curry (captain)
G – James Harden
F – Kevin Durant
F – Anthony Davis
F – DeMarcus Cousins
Reserves
G – Damian Lillard
G – Klay Thompson
G – Russell Westbrook
G – Jimmy Butler
F – LaMarcus Aldridge
F – Karl-Anthony Towns
F – Draymond Green
The Warriors getting two reserves to join the two starters to bring their total All-Star game representatives to four marks the first time in NBA history a team had four representatives in consecutive All-Star Games.
It appears that Damian Lillard will head back to the All-Star game for the first time since 2015. Karl-Anthony Towns, Kristaps Porzingis, Victor Oladipo and Bradley Beal will join Joel Embiid in making their first NBA All-Star game.
LeBron James had be the first to pick with Curry coming after him. One small wrinkle the NBA made sure to note when they officially announced the teams involved these ten players. The captains must select from the starters player pool first before selecting any of the reserves. Stephen Curry had the first pick from the reserves once the starters were picked.
The Rosters for the game have been released for Team LeBron and Team Stephen
As drafted by #NBAAllStar team captains #LeBronJames and #StephenCurry….

The 2018 @NBAAllStar Rosters! pic.twitter.com/TbZtvitP4f

— NBA (@NBA) January 26, 2018
Team LeBron
Starters
Kyrie Irving
LeBron James (captain)
Kevin Durant
Anthony Davis
DeMarcus Cousins
Reserves
Russell Westbrook
Kevin Love
LaMarcus Aldridge
Victor Oladipo
Kristaps Porzingis
John Wall
Bradley Beal
Team Stephen
Starters
Stephen Curry (captain)
James Harden
DeMar DeRozan
Giannis Antetokounmpo
Joel Embiid
Reserves
Kyle Lowry
Klay Thompson
Draymond Green
Karl-Anthony Towns
Al Horford
Jimmy Butler
Damian Lillard