Jim Boeheim and the Syracuse Orange are coming off an extremely up-and-down season. This seems to be the trend for the Orange as of recent years. This season, however, seems to be one that will feature far more 'ups' than 'downs' for Boeheim.
Syracuse finished 23-14 (8-10) last season with one of the worst offenses in the country- especially amongst the "power-6" conferences. Their points per game ranked 317th in the nation, FG% at 318th, and 3-point% at 328th nationwide.
The outlook for the Orange begins with their defense. This unit ranked 10th in opponents' PPG and 5th in opponents' FG%. That's right, Boeheim's 2-3 zone is still thriving and shows no signs of weakening. Syracuse is a squad with exceptional length and athleticism, allowing them to swallow up ground for closeouts at a ferocious rate.
Key Returners
Tyus Battle
Oshae Brissett
Franklin Howard
Paschal Chukwu
Jim Boeheim will get back virtually his entire team. To narrow it down, however, there are four players whose return is absolutely vital to the Orange this season. Star man and leading scorer Tyus Battle will be back and looking to improve upon his 19 PPG average last season. The junior team leader is poised for national stardom- before likely heading to the NBA. Oshae Brissett was a breakout freshman last year and will be ready to show that he's here to stay. Brissett should warrant some All-ACC consideration if he improves on his 15 PPG, 9 RPG averages in his first year. To run the show, Syracuse returns one of the steadier hands at point guard in the ACC in Franklin Howard. The senior guard was 5th in the ACC in assists and 1st in steals. As the Orange's 3rd leading scorer, Howard's all-around game will prove mightily valuable. 7-foot-2 Paschal Chukwu anchors the paint for the Orange. Returning the squad's leading rebounder and shot-blocker is usually an ideal way to dominate the interior.
Key Losses
Syracuse has the luxury of losing no key players. Of the few players who are leaving, Jim Boeheim does not lose anyone who played more than 17 minutes per game or averaged more than 6 points per game. Keeping the bulk of your team- including your most prominent players- is a position that every team wishes they could find themselves in. This unique roster turnover situation provides a considerable advantage, as their team is experienced and will not need to make any new transitions.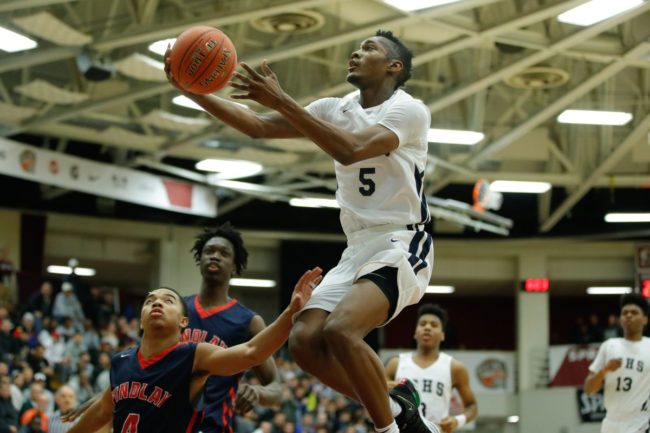 Key Newcomers
This squad may not lose much, but they also do not add a whole lot either. Of note, combo guard Jalen Carey is the only player who will be a new addition to the rotation. The 6-foot-3 freshman is an attacking guard who can make plays for others as well as himself. He isn't poised to help with the 3-point shooting problem at Syracuse, but he is a great finisher around the basket and is creative inside the arc.
Projected Starting Five
Franklin Howard
Tyus Battle
Oshae Brissett
Marek Dolezaj
Paschal Chukwu
Season Outlook
Jim Boeheim has been around the block and seen it all. After serious instability over recent years, it finally seems as if the Orange are poised to compete at the highest level again. Returning the bulk of a talented, experienced team will allow Boeheim a foundation that he's lacked recently.
Syracuse appears to be set to be one of the best defensive teams in the country- again. They held opponents to 65.2 points per game last year- good for 2nd in the country while ranking in the 94th percentile in overall defense via Synergy. The length that features in the rotation provides the best possible foundation for a 2-3 zone. The zone is intended to force opponents to shoot- and it did- as Syracuse allowed 910 3-point attempts last season, ranking near the most in the country. However, the team length and athleticism allowed for quick closeouts- forcing opponents to shoot just under 32% from deep. This ranked 22nd in the nation.
Offensively, expect to see growth amongst the entire team. With another year to grow together, the Orange should click more smoothly and improve upon a dismal offensive season. However, if they fail to grow in this area, expect another rough-looking Syracuse squad for the bulk of the season. Their success hinges on whether or not this unit will develop offensively. With an elite defense, they won't have to be a top-shelf offense, but something more than 70 points per game would be a move in the right direction.
Record Prediction 23-8 (11-7)
Jim Boeheim scheduled an almost embarrassingly easy non-conference schedule. The highlights of said schedule feature rebuilding schools such as Ohio State, Connecticut, and Georgetown. None of which seem to be ready to play at a very high level this season. They may play Oregon in an invitational mini-tournament at Madison Square Garden. This would certainly give them a chance at a non-conference blue chip win. However, the tournament's results may also have them playing against Iowa. A much lesser team that doesn't provide garner much excitement. While they could run the non-conference table, I expect they slip up in at least one game.
The ACC looks as competitive as we've seen it this year. While I think the Orange finish in the top five, they could end up anywhere in the 4-8 range depending on how their offense looks against higher caliber defenses. 11-7 seems like a reasonable conference outcome. Syracuse should handle the lower level teams, and their defense will put them in position to compete with the cream of the crop.