The 2017 NFL draft is finally here! This three day period is the highlight of the offseason for NFL fans all around.
Here are your results: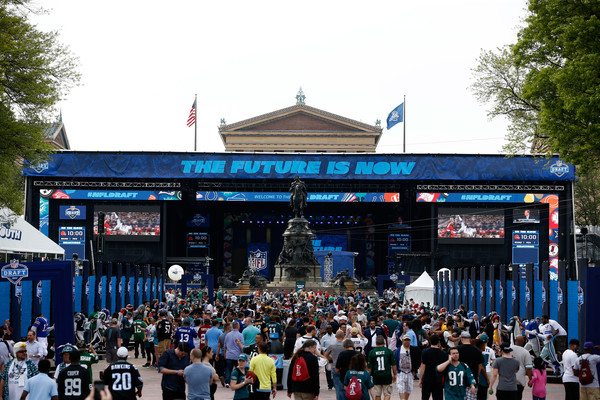 1. Cleveland Browns-
Myles Garrett:
The pick we have all expected for a long, long time.  Garrett is a freak athlete, but has people wondering if he puts all his effort into every play.  The Browns make a move taking the best player in the draft, hoping they can get a QB later on.
2. Chicago Bears (from San Francisco 49ers)-
QB Mitchell Trubisky:
The windy city shocks the NFL world.  This pick has to be quite confusing after the signing of Mike Glennon.  With a shaky defense, this pick has to be confusing fans everywhere.
3. San Francisco 49ers (from Chicago Bears)-
DE Soloman Thomas:
This is the third year in a row that the Niners have taken a defensive lineman in the first half.  Thomas has great anticipation and John Lynch is clearly ready to get this defense back on track.
4. Jacksonville Jaguars-
RB Leonard Fournette:
As the Jags look to continue to build the offense, they get the best running back in the draft class. Fournette is a monster that is determined to run through you.  If the Jaguars get their line figured out, this will turn out being a great pick.
5. Tennessee Titans (from Los Angeles Rams)-
WR Corey Davis:
The Titans make another shock, but this one makes sense.  Mariota needs some help and now he has a reliable option.
6. New York Jets-
S Jamal Adams:
Getting a steal here.  Adams potentially is the most talented player in the whole draft not named Myles Garrett.  A guy who will be able to lead and "quarterback" the defense.  This guy will bleed green for years to come.
7. Los Angeles Chargers-
WR Mike Williams:
Phillip Rivers has been longing for a threat on the outside for a while now.  Williams brings a big presence and will be a weapon for L.A.
8. Carolina Panthers-
RB Christian McCaffrey-
Two running backs off the board in the top eight! A multi-dimensional back that will compliment Jonathan Stewart well.  If he fits anywhere in the NFL, Carolina is the destination.
9. Cincinnati Bengals-
WR John Ross:
The fastest player in the world shot up draft boards quickly.  The Bengals have a real star in A.J. Green and are looking for another solid weapon for Andy Dalton.  John Ross has some injury issues but can take the roof off the place in one play.
10. Kansas City Chiefs (from Buffalo Bills)-
QB Patrick Mahomes:
An heir to Alex Smith, Andy Reid is licking his chops.  A gunslinger that can sit for a year and learn from Smith.  The Chiefs will look to now build around their new franchise quarterback.
11. New Orleans Saints-
CB Marshon Lattimore:
The top cornerback in the league was never supposed to drop this far, but here we are.  The Saints defense is atrocious, this is a step in the right direction.
12. Houston Texans (from Cleveland Browns)… (from Philadelphia Eagles)
QB Deshaun Watson:
The National champion finally comes off the board.  After missing out on Tony Romo, the Texans jump up in the draft to snatch a special player.  Just ask Dabo Swinney- He compared him to Michael Jordan.
13. Arizona Cardinals-
EDGE Haason Reddick:
Reddick is a beast at the linebacker position. The Cardinals might have finally found the final puzzle piece to their defense.  With breakout backer in Golden on one side, Reddick will be a nice compliment.
14. Philadelphia Eagles (from Minnesota Vikings)-
DE Derek Barnett:
Barnett made history at Tennessee, breaking Reggie Whites sack record and now he will have to help a defensive line that will need to be better this year.  After fixing up the offense in free agency, getting Alshon Jeffrey and Torrey Smith, this is a solid pick for Philly.
15. Indianapolis Colts-
S Malik Hooker:
No one believed Hooker would fall this far and Indy couldn't be happier.  Some issues at tackling, the ball skills will make up for it.  The Colts have a bad defense so this was definitely a pick of need.
16. Baltimore Ravens-
CB Marlon Humphrey:
Humphrey started all 29 games he played in at Alabama and is one of the top corners in the draft.  The Ravens will need bodies to cover Antonio Brown, Martavis Bryant, A.J. Green, and now John Ross.
17. Washington Redskins-
DE Jonathan Allen:
An absolute monster that the Redskins front office never imagined would be available at number 17.  The shoulder red flags caused the drop, but wow, what a steal.
18. Tennessee Titans-
CB Adoree' Jackson:
Jackson has great ball locating skills, and is a great pick for the Titans.  Some are scared of his size, a little short, but cornerback was a big need.
19. Tampa Bay Buccaneers-
TE O.J. Howard:
O.J. meet your new best friend- Jameis Winston.  Howard was just too good to pass up on here at pick 19.  Many had believed Tampa would take Jameis' old teammate, Dalvin Cook, but he still gets a weapon here.
20. Denver Broncos-
OT Garett Bolles:
The first offensive lineman taken off the board.  He is heading to mile high, but who will be in the pocket behind him?
21. Detroit Lions-
LB Jarrad Davis:
Davis has great reaction skills, but a surprise he jumps ahead of Reuben Foster.  Jarrad is a good tackler but will have to look elsewhere for a sack artist, it just isn't his style.
22. Miami Dolphins-
EDGE Charles Harris:
Harris had 16 sacks over the past two seasons and another Mizzou linebacker looking to change a defense.  A quick pass rusher that will be heavily used on passing downs right from the start.
23. New York Giants-
TE Evan Engram:
Since the G-men now have Brandon Marshall and Odell Beckham Jr. outside the numbers, Engram will be a nice fit.  Eli Manning will now have no excuses to not hit a one of these special weapons.
24. Oakland Raiders–
CB Gareon Conley:
After the rape accusations, Conley still ends up being drafted in round one.  This could end up being a risky one, but worth it if he is innocent.
25. Cleveland Browns (from Houston Texans)-
S Jabrill Peppers:
The Browns go defense again, scooping up the biggest wild card in the draft.  No one has an answer of where Peppers will actually play in the NFL, but he has a ton of talent.  Cleveland's draft looks good so far, grabbing two solid defensive players.  Now… who is going to play quarterback?
26. Atlanta Falcons (from Seattle Seahawks)-
OLB Takkarist McKinely:
A ruthless player off the edge is exactly what Dan Quinn is looking for.  An incredible story is looking to help the Falcons get back to the promise land.
27. Buffalo Bills (from Kansas City Chiefs)
CB Tre'Davious White:
As cornerback is their biggest need with Stephon Gillmore in New England, White fills a void.  Another LSU player will be ready to make plays.  He will need to as well- because he plays Tom Brady twice a year.
28. Dallas Cowboys-
Edge Taco Charlton:
Now that the Cowboys have their offensive figured out, pass rushers is the biggest need.  Taco is a skilled player that will be looking to help Dallas.  He was a 1st team All- Big ten player in 2016, he might solve a small kink for the Boys.
29. Cleveland Browns (from Green Bay Packers)-
TE David Njoku:
Jumping back into the first round…quarterback? Nope.  The Browns take a tight end, but a skilled one at that. Out of the University of Miami, Njoku is a weapon… but who will be throwing to him?
30. Pittsburgh Steelers-
OLB TJ Watt:
Brother of JJ Watt, TJ will have to prove he is worth the first round pick.  The Steelers haven't had a 10+ sack rusher in a while now.  James Harrison will be able to put him under his wing as Bud Dupree owns the other side of the defense.
31. San Francisco 49ers (from Seattle Seahawks)…(from Atlanta Falcons)-
LB Reuben Foster:
The slide stops right before the night ends.  Foster was a top ten talent, but a few off the field issues make him slide. John Lynch made some impressive moves tonight and if Foster stays out of trouble, this will end up being a miracle that he fell this far.
32. New Orleans Saints (from Patriots)-
OT Ryan Ramczyk:
The Saints have a lot of problems on defense, but their O-line also needs help.  With Adrian Peterson now in town, the Saints may be looking to take the load off Brees a little bit- this pick could help do that as well.
With the first round now done, there are a few surprising players still left on the board.  Some of the noticeable names are Dalvin Cook, Joe Mixon, Zay Jones and DeShone Kizer.
Also if you want to see how the Def Pen team stacked up to the real GMs of the NFL you can check out the one round mock draft we released earlier.