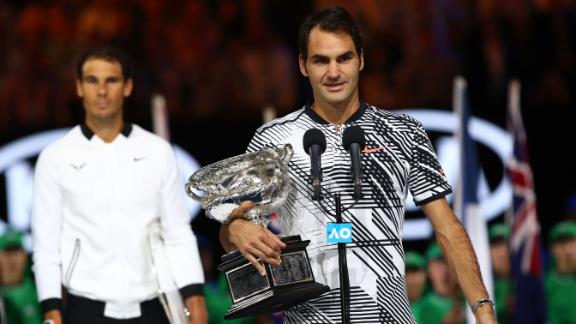 Greatest of All Time. That's what we confirmed at the 2017 Australian Open last Sunday. Any debate in the world of men's tennis could finally be put to bed when Roger Federer picked up his 18th grand slam title in Melbourne. The five-set classic against his longtime and equally legendary rival Rafael Nadal was a fitting end to a tournament that was full of drama, surprises, and nostalgia.
Such was the same on the women's side as Serena Williams cemented her legacy against her rival and sister Venus. With these two classic championship matches, some are calling this year's Australian Open the best in the tournament's 105-year history. But for a sport that has seen a golden era stretch over the last decade, could the lack of new young talent shining through be a troubling sign for the future?

A Chronic Issue in Women's Tennis
Women's tennis has been struggling with the problem of consistent young superstars for a few years now. Serena has by far been the only consistent top superstar on the WTA circuit, and at 35-years-old, we can safely say that retirement has to be in her immediate future. What's left behind is a slew of players all getting glimpses of stardom, but never sticking around long enough to reach household name status. Kerber, Muguruza, Pennetta and Kvitova have all won at least one grand slam since 2014, but none have won more than two, and none have made it to the dinner table conversations across North America.
Oddly enough, in 2015, Canadian Genie Bouchard was named the world's most marketable athlete and looked to be a shoe-in to be the next queen of women's tennis. However, a disappointing two years and questions about her focus and dedication has seen the 22-year-old drop in both rankings and mainstream relevance. Of course, things can change in a matter of months. Perhaps a resurgence of Genie through deep runs at the French and Wimbledon. Maybe Angelique Kerber can build on her 2016 success and pose a real threat to Serena's dominance. Or maybe someone brand new, young and exciting can take the reins and run with them. Here's to hoping that we are still blessed with Serena's greatness until that day comes.
Canadian @WTA star @geniebouchard is the world's most marketable athlete. Here's why: https://t.co/Jz9OKUVk0v #SP50MM #tennis

— SportsPro (@SportsPro) May 20, 2015

The End of an Era
The men's side has been a much different story. For the last 15 years, Men's tennis has gone through a period where arguably three of the greatest players ever all happened to overlap in tenure. Outside of Roger, Rafa, and Novak (who combined have won 44 grand slams), the ATP also has two other stars, who in any other era would be considered tennis legends, in Andy Murray and Stan Wawrinka. Tennis media have been pushing the notion of "the next generation" for some time now. With the youngest of the 'Big 5' (Big 4 + Stan) being 29 years old, long term planners at the ATP have to be wondering who's next?
Milos Raonic (26), Kei Nishikori (27) and Grigor Dimitrov (25) were supposed to be the answer. All three have shown signs with Raonic and Kei consistently reaching the finals and semis of major events and Dimitrov making an impressive run to the semis this year in Melbourne. None were able to break through quite like Roger did in 2003 or Rafa in 2005 at the age of 19. Behind them are a few potential options in Dominic Thiem (23) and Nick Kyrgios (21). Kyrgios has been intriguing, having taken out some of the world's best in the past, his apparent lack of interest at times has been the only thing holding him back from reaching the sport's top tier. Instead, he's now a troubling indicator of the void left when the golden era ends.
Nick Kyrgios is a black eye for tennis, John McEnroe says https://t.co/2fAC0jWky7

— The Australian (@australian) January 19, 2017
Don't get me wrong, as a die-hard tennis fan and an avid believer in Roger's claim as the best – the 2017 Australian Open was a gift. A gift to so many who remember the epic battles between Rafa and Roger, between Serena and Venus and to those who were too young to truly witness their primes. Let's just hope these legends will stick around long enough for tennis to find the next big thing.