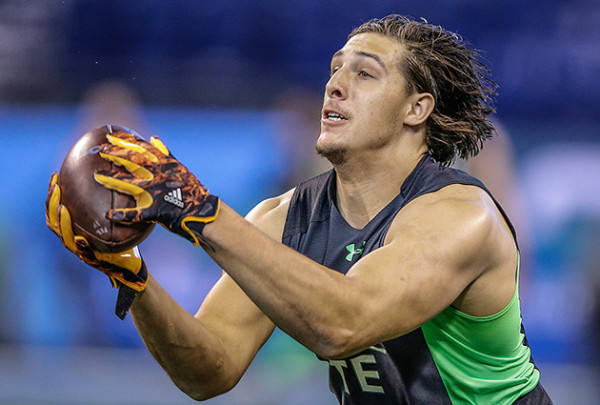 The longest day of the combine takes place between the quarterbacks, wide receivers, and tight ends. The tight ends overall are a weak group per say this year. None of the tight ends warrant a first or second round consideration. Having said that lets take a look at my initial thoughts on the group as a whole
Arkansas tight end Hunter Henry is considered the best of the average bunch. Henry disappointed in my opinion as he opted not to run the 40 or any of the other timed or recorded events for that matter. Henry did run routes but he didn't look like the first round projection that most people consider him. His collegiate numbers are pretty good despite having bad quarterback play. I would compare him to Maxx Williams from a year ago. His 16 reps on the bench press were also concerning from a blocking standpoint.
After Henry it is really a case of pick your poison. 6 of the 15 tight ends didn't even participate in the 40-yard dash. My 4th rated tight end wasn't even invited to the combine!
Jerrell Adams ran the fastest 40 time at 4.64. Adams had a good week at the senior bowl but didn't necessarily shine in route running drills.
Austin Hooper is your prototypical Stanford tight end. Unlike most of the group Hooper actually had to do a decent amount of blocking in college. Hooper is not as good as Zack Ertz was coming out but he may be close.
Nick Vannett is one of 15 Ohio State players at the combine. For some odd reason the draft anaylists love to over hyped the Ohio State tight ends even though they have virtually zero production. We saw this a year ago when Denver reached on Jeff Huerman who sat the bench for much of the year. Maybe things will change with Vannett but his game tape is virtually useless because of his usage.
Beau Sandland was the most intriguing tight end in the group. Sandland was highly sought after in junior college eventually finding his way to Miami. He later finished his college career at Montana State not living up to those lofty Miami expectations. During the drills he had the make up of a true receiving tight end similar to Nick Boyle last year.
*The real highlight of the day may have been Greg Olsen's on the field commentary during the combine. NFL Network needs to hire that guy once his playing career is over.
Tight End Rankings:
Hunter Henry (Arkansas)
Austin Hooper (Stanford)
Jerrell Adams (South Carolina)
Henry Krieger Coble (Iowa)
Beau Sandland (Montana State)