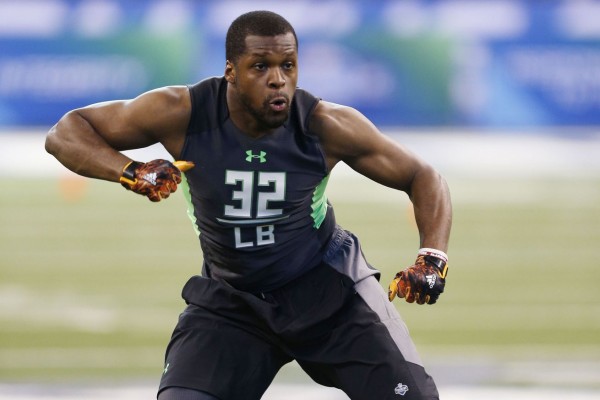 After discussing the defensive lineman and pass rushers it is time to take a look at the linebackers. By linebackers I will talk about the traditional inside linebacker and 4-3 outside linebackers. This is not a particularly deep linebacker group but it does have a number of hybrid safety conversations guy who will make a difference in sub packages.
My Number One Rated Prospect:
My number one rated linebacker is UCLA's Myles Jack. Not only is Jack my top rated guy at his position but he is also my number one overall prospect on my list as well. The former bruin alum did not participate at the combine because of an injury. In fact injuries are a concern for him as a knee injury shortened his junior season while a fractured leg ended his 2015 season. He did however bench 19 reps for 225 despite not being in particularly great shape yet. If I had to compare him to anyone he could be the next coming of Brian Urlacher. The big question is can he stay healthy in the future.
The Ultimate Throwback:
My second rated player at the position is Alabama's Reggie Ragland. He is what you expect of your typical Bama linebacker similar to Don't'a Hightower and C.J. Mosley. Ragland ran a 4.72 which is perfectly fine considering he is highly instinctive. This guy just belongs in an AFC North type environment as one of those old school throwback linebackers. If he did fall to a 4-3 team he does have the ability to get after the quarterback as well.
Injuries Are A Shame:
The most heartbreaking prospect story has to go to Jaylon Smith of Notre Dame. Smith tore just about every ligament there is to find during the Fiesta Bowl against Ohio State. Without the injury he is a potential number one overall pick. With the injury there is no way any team picks him in the first round considering the reports that he is expected to miss the entire 2016 season. Once the medical reports come in we will have a better understanding of where he might be selected. The bad news is all of the indications have suggested the reports are bad potentially jeopardizing his playing career beyond next season.
Ryan Shazier?
The last guy worth going into heavy detail over is Darron Lee from Ohio State. Lee is comparable to Ryan Shazier from a few years ago constantly flying around the football. Of course he has some talented guys to work with giving him a little freer reign. His 4.47 40 time was the best among linebackers. He also jumped out of the gym with a 35.5-inch vertical and 133-inch broad jump. His ultimate sticking point in the NFL is how well he can cover at the next level that is something I need to personally do more homework on. Some team is going to take a chance on him in the 15-20 range after a great combine.
Boom or Bust?
Georgia's Leonard Floyd is the definition of a boom or bust linebacker. Is he Dion Jordon or Jamie Collins? One thing Floyd has going for him is his pass rushing ability. The biggest question is can improve enough in run defense to stay on the field. There is no question Floyd has some serious high get off twitchiness going on it is whether or not the right coach can unlock his potential.
Safety Turned Linebacker:
The undersized speed linebacker has become a big theme in today's NFL. It started years ago with Thomas Davis coming out of Georgia and has really caught fire in the present day with Mark Barron, Kwon Alexander, Telvin Smith, and Deone Buchannan. 4 guys have the potential to fit that mold not including the players who tested out as safeties. Sua Cravens played safety last season for USC and could find his way into the first round. Travis Freeny from Washington could make a huge impact on special teams immediately. Deion Jones from LSU has the best chance of capturing this mold having proven so in the toughest conference in America the SEC. Finally there is Montese Overton from East Carolina. Overton is highly instinctive in every ECU game I watched.
Instincts Matter:
Two undersized middle linebackers also have a chance to make impacts in the league. These two players are known for their instincts rather than pure athleticism. Tyler Matekevich was a player who played his tail off at the Senior Bowl while Scooby Wright had some bad luck with injures. Wright in particular was a projected top 5 pick coming into this season. Both players resemble the mold of Chris Borland from a few years ago.
Linebacker Rankings:
Myles Jack (UCLA)
Reggie Ragland (Alabama)
Jaylon Smith (Notre Dame0
Leonard Floyd (Georgia)
Darron Lee (Ohio State)