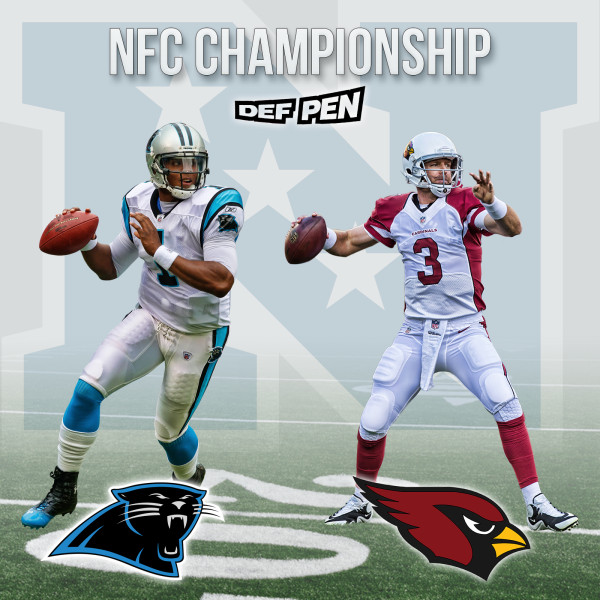 A trip to the Super Bowl is on the line, as the top two teams in the NFC will square off. The 13-3 Arizona Cardinals will travel to Carolina to take on the 15-1 Panthers (or the dabbing Newton's). The current line of the game is Carolina -3 home favorites with the under/over 47.5 expecting a higher scoring game. These two teams met in the postseason a year ago with Carolina securing the victory. The only difference is this year Carson Palmer will be playing in this game. Now let's take a look at some keys to the game to see who will represent the NFC in the Super Bowl.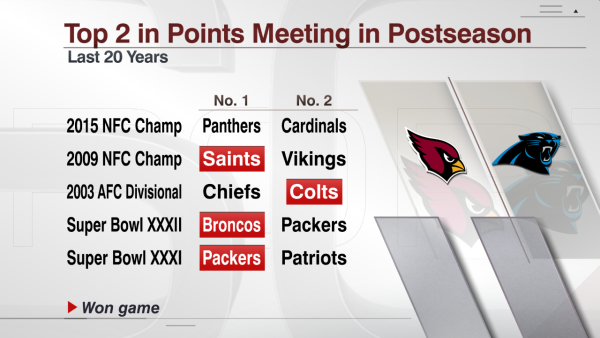 WHY Arizona Will Win:
The Cardinals Have The Number One Offense:
While Carolina has the number one scoring offense at 31.4 points per game Arizona ranks 2nd with 30 points per game. The only difference is Arizona puts up far more points in those games. The Cards average 408.3 yards per game compared to Carolina's 366.9. Make no mistake about it the Cardinals are going to put up points. The Panthers will likely not be able to sit on a large lead and coast as they did a week ago. Unlike Seattle's average receiving core Arizona's is elite. Future hall of famer Larry Fitzgerald leads the group, as it doesn't get much better than him. Furthermore lightning rod John Brown adds a deep threat element the Seahawks did not have.
The Cardinals Have A DEEP Secondary
Sure the loss of the honey badger Tyrann Mathieu makes a huge difference, as his absence cannot be understated. Like Seattle this team not only has great safeties but also has an all-pro corner. Rashad Johnson, Patrick Peterson, and Justin Bethel are just a few of those players. The Cardinals defense is vastly underrated and will likely prove to be Cam's toughest test yet.
The Cardinals Are A Great Road Team
Many people worry that the Cards will struggle in a cold weather environment since they play their home games in Arizona in a dome with a retractable roof. Yet this is a team that has dominated on the road going 7-1 in those games actually outperforming their home standards. Arizona may also have the coaching advantage on figuring out ways to beat this tough Carolina defense. Arizona did put up 39 in a hostile Seattle environment. What makes people think they can't do it again?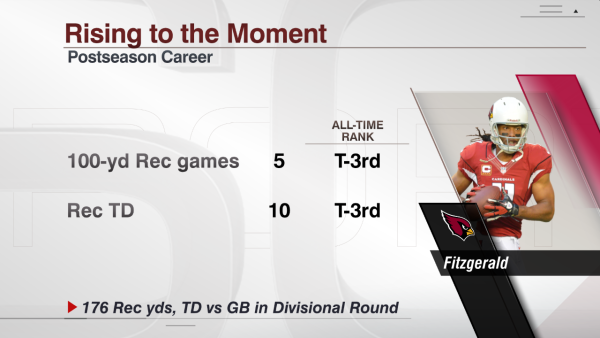 WHY Carolina Will Win:
Cam Newton Is The NFL MVP
Fueled by the need to score, Newton has been the league's MVP. It is to the point where you wonder if teams are letting him score so they he can hand out more footballs in the end zone. In terms of quarterbacks it is safe to say you prefer Newton compared to Palmer. Cam also possesses a sort of clutch factor, something that Palmer does not. Arizona is coming off an emotional high in an overtime win over a sketchy Green Bay team, a game in which Carson Palmer did not play well. Newton has been on fire all season long as I don't expect that to change now.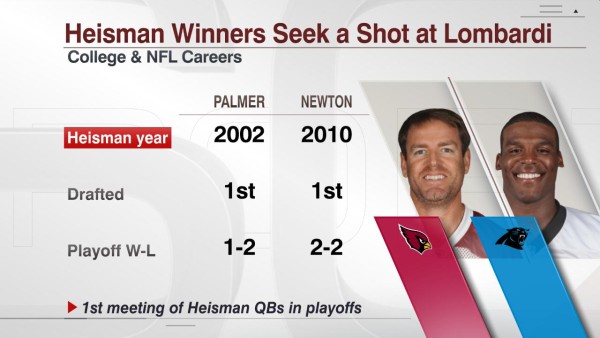 Riverboat Ron Runs A Terrific Defense
If anyone is going to be Arians kryptonite it could be Ron Rivera. Outside of coaching this Panthers unit is flat out good. Luke Kuechly, Thomas Davis, Kawaan Short, and Josh Norman are just a few to mention. Those 4 were apart of a record 10 Panthers that were selected to the Pro Bowl. The Panthers defensive front is also dangerous which could limit rookie back David Johnson's success. With Larry Fitzgerald blanketed by Norman it figures a tough assignment for Michael Floyd to win enough one on ones to win the game.
The NFL Doesn't Want Carson Palmer In The Super Bowl
The NFL simply doesn't want to market Carson Palmer. The NFL figures to generate much more revenue if the Swag of Newton appears in the game as compared to Palmer. Could a few unwarranted flags pop up in Arizona's way? While you may not be as superstitious as I am you will find it difficult to name a player as unpopular as Carson Palmer who appeared in a Super Bowl. The last was Joe Flacco but that Raven team had some historic defensive names including Ray Lewis, Ed Reed, Haloti Ngata, and Terrell Suggs. Before that the other unpopular quarterback to appear in a Super Bowl was Trent Dilfer who had an even better Raven defense supporting him. At the end of the day this is an entertainment business and a Newton Super Bowl is much more marketable.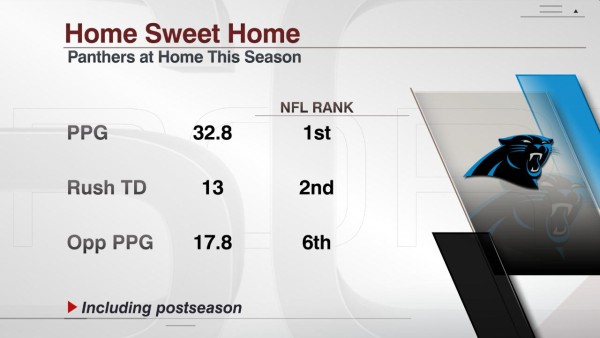 In the end I believe the dabbing Newton's will be victorious. We saw Carson Palmer's postseason struggles last week as I expect the same to occur this week. We saw how ineffective Russell Wilson was against this defense last week so why would I think Carson Palmer will have any better luck?
PREDICTION: Carolina defeats Arizona 31-27