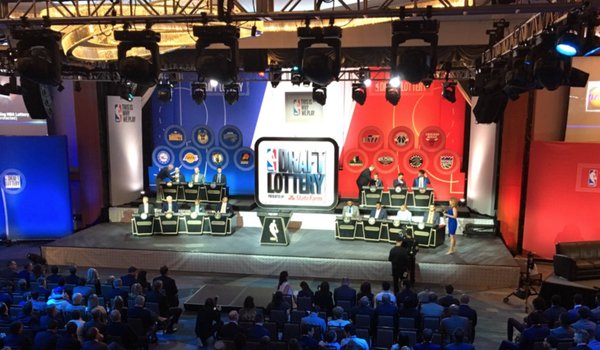 2016 NBA Draft Lottery had a lot of interesting moving parts possibly involved. The Philadelphia 76ers not only had the best chance of selecting number one overall but also had a chance to get the Los Angeles Lakers pick if their pick fell to fourth or worse. Philly was also in a situation if the Sacramento Kings somehow crawled up to one of the top spots, the Sixers had the right to swap picks with them.
Essentially the big name at the top of the board is freshman phenom out of LSU, Ben Simmons. The guard/forward has size, handle, passing ability and a nose for the basketball but he is a very raw prospect. Which could be why teams are leaning towards Brandon Ingram from Duke University.
At the end of the day, most of the lottery stayed true to form but things got interesting at the top of the board. The Los Angeles Lakers ended up keeping their first round pick in the 2016 NBA Draft and ended up selecting in a pretty favorable position.
Here's the entire 2016 NBA Draft Lottery order.
14. Chicago Bulls
13. Phoenix Suns
12. Utah Jazz
11. Orlando Magic
10. Milwaukee Bucks
9. Toronto Raptors
8. Sacramento Kings
7. Denver Nuggets
6. New Orleans Pelicans
5. Minnesota Timberwolves
4. Phoenix Suns
3. Boston Celtics
2. Los Angeles Lakers
1. Philadelphia 76ers