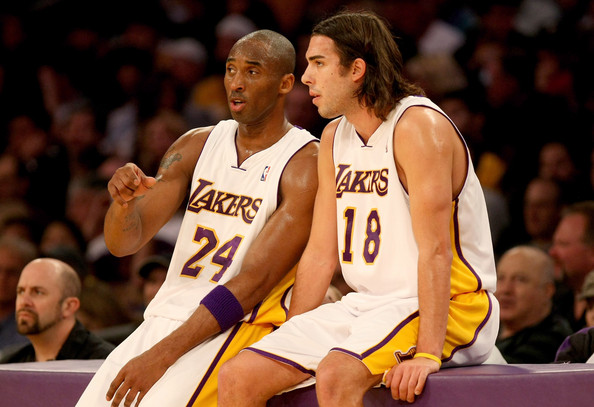 For six years and two championship runs, Sasha Vujacic was a reserve on the Los Angeles Lakers, primarily as an end of the rotation player who could play either guard position. One thing Sasha was not known for until his days with the Lakers were over was a whipping boy for Kobe Bryant's enjoyment.
In Kobe's documentary, we saw the legendary guard abuse Sasha in practice, giving him elbows and winking at someone off to the side.
A recent fantastic piece by ESPN's Jack MacMullan, details Kobe Bryant's idols including Michael Jackson, Kareem Abdul-Jabbar, Magic Johnson, Hakeem Olajuwon, Larry Bird and of course, Michael Jordan. The story of MJ and Kobe's career path comparison has been documented many times before. According to MacMullan's piece, Jordan told Kobe, "If you ever need anything, give me a call," after a game in December 1997, and Kobe took him up on that offer early and often. Kobe talked to MJ about everything from figuring out the best release point on a fadeaway shot to guarding taller players in the post but MacMullan points out one interesting phone call in particular. Kobe turned to MJ for advice on dealing with his teammates, in particular how to handle an upset Sasha Vujacic.
During the 2004-05 NBA season, In the middle of a practice, Kobe elbowed fellow Lakers guard Sasha Vujacic and made him cry. After the practice ended, Kobe called Jordan and asked if he thought he had gone too far. It is unclear what MJ told him over 10 years about but Jordan spoke with MacMullan and talked about their conversation.
Bryant comes to crave his talks with Abdul-Jabbar, whose reputation for being unapproachable is hardly a thing to stop Bryant. "So Kareem is aloof," Bryant says. "And Michael is supposed to be an a–hole because he made Steve Kerr cry. Doesn't matter to me. I made people cry too."

Indeed he did. Perhaps you've heard the legendary tale of how Kobe once elbowed teammate Sasha Vujacic in the face during a 2004-2005 practice, causing Vujacic to burst into tears? What you do not know is that following the incident, Kobe calls Jordan, seeking his counsel. Even Kobe wonders: Has he gone too far?

"Sometimes you have to be an a–hole," says Jordan today when asked about that conversation. "Sometimes your teammates are going to hate you, but all the guys I went after — Luc Longley, Steve Kerr, Jud Buechler — they won multiple championships, so I'm pretty sure they understand."
I wonder if that clip from Kobe's documentary is the elbowing issue in question. Guess you need to watch it here to find out.