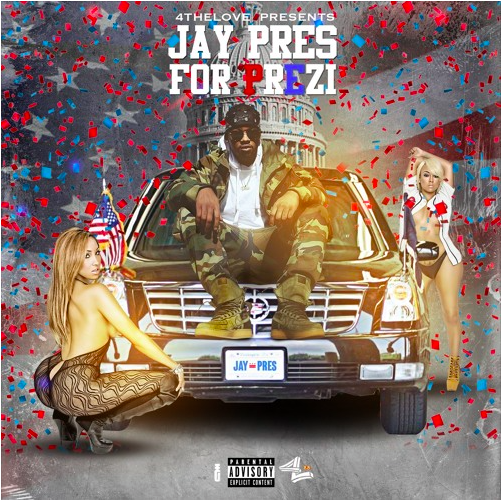 Harlem World it's time to rejoice, Jay Pres has dropped his first project for 2017.  'Jay Pres For Prezident', how fitting. The 10 track project is officially here and can be streamed below. Leading up to the project, the Harlem native took a different route in promoting the project which should go without notice. To push the promo or campaign *knee slapper*, Prezi went all out and had Presidential election style flyers/cards planted all throughout the city.
Hitting the ground and doing the leg work, old school style. I mean do street teams even exist anymore? If not it looks like the trendsetter that is Pres, is looking to bring back the essence in more ways than one.
If you have listened to his previous work, 'Sephora' and 'MAC' you will know that he is a student of the game. Not only that but Pres is the son of a Jazz musician/singer and Nephew to Roy Ayers. Some tough shoes to fill, so you know perfection is in his pedigree.
As it stands for 'Jay Pres for Prezident', Pres comes out the gate swinging as he looks to put everyone on notice that he has more up his sleeves than just jackin' for beats. Repping for Harlem throughout the project, Pres isn't one to hog all the spotlight to himself. He receives contributions from the likes of Kadeem King, Qu'ality, Chase N Cashe and more.
For me, early favorites would be, 'Trap Everyday', 'Flexin',  'Any Day Now' feat. Kadeem King and 'Ghost' feat. Qu'ality. That's just to name a few. Check out the project and see what Pres had to offer with this new body of work.